Welcome to Tsurugi Inc. Online Shop!
Place where you can buy any product manufactured and made in Japan!
We can offer low prices and friendly customer service. All transactions are made via PayPal or Stripe, so we guarantee safe shopping experience. Please note, all prices are excluding shipping and handling. We do offer several shipping options, prices are calculated according to the cart weight and each product do have set weight.
If you cannot locate product and you are sure it's made in Japan – simply just leave us a note and we will do our best to sort it out!
For more information please check Shipping & Payment Info also please check Terms & Conditions.
G'ZOX Real Glass Coat Small
SEA180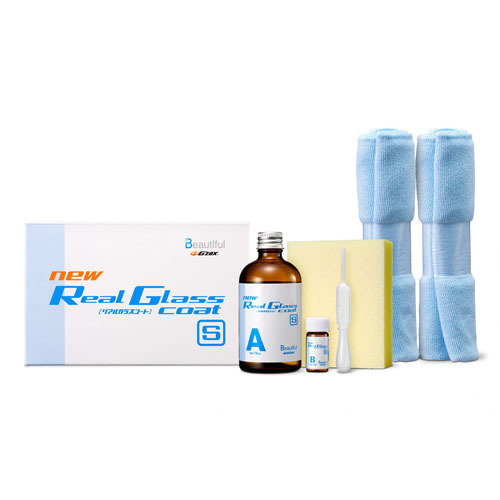 Choose your language: English | Russian
[lang="en"]
Follows "Real Glass Coat"its outstanding gloss, shine, water repellency and anti-fouling performance, achieves ecological sensitivity, workability and increasing a feeling of finish, groundbreaking glass coating agent.
Take environmental load and health condition into account, not only developing as de-xylene but also progress ingredient treatment, achieve workability and increase a feeling of finish by shorten time of harden and wiping.
This is the small amount type when uses for annual maintenance. Not only for revisiting demand but also for moderate amount for motorcycle.
[/lang]
[lang="ru"]
Real Glass Coat – твердое кварцевое покрытие, продукт на основе белых кристаллов диоксида кремния. Создает очень сильный блеск, сильный водо и грязе отталкивающий эффект, создает на поверхности эффективный защитный слой, препятствующий образованию царапин. Данный продукт создан с заботой об окружающей среде и человеке. Формула не содержит этилен. В сравнении с аналогами, значительно уменьшено время затвердевания состава.
[/lang]
Product Region:Japan
Contents:Liquid A 76ml, Liquid B 4ml, Sponge with Buff 1pc, Exclusive Cloth 2pc, Spuit
Handling Time:5 days