Welcome to Tsurugi Inc. Online Shop!
We can offer low prices and friendly customer service. All transaction are made via PayPal or Stripe, so we guarantee safe shopping experience with us. Please note, all prices are exclude shipping and handling. We do offer several shipping options, prices are calculated according to the cart weight and each product do have set weight.
For more information please check Shipping & Payment Info also please check Terms & Conditions.
---
Soft99 Glaco Glass Compound Roll On
SGA008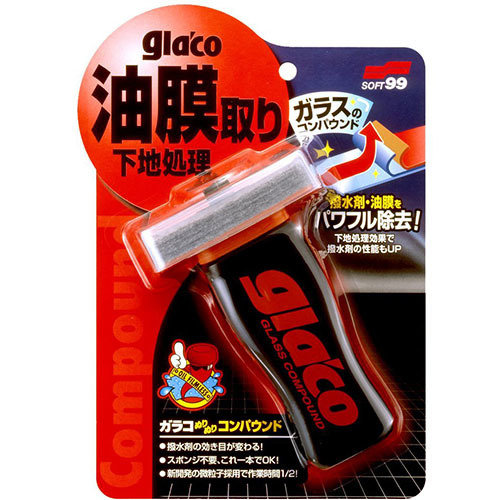 Choose your language: English | Russian
[lang="en"]
Combining the abrasive powder of small, hard particles and big, soft particles,
Glaco Glass Compound Roll-On is able to remove the toughest stains made from oily dirt and fluorine film.
By just applying the product lightly onto the glass you will see immediate results as the roll-on removes the oil-film with ease.
This convenient product can be used as surface preparation just before applying any coating to the glass.
Directions to use
1. Remove dust and dirt from glass with water, and wipe off any water drops remaining on the surface.
2. Shake the bottle well with the cap on and remove the plastic seal.
3. Polish onto glass until the surface stops repelling the liquid while the side of the bottle is pressed.
4. Afterwards, wash the glass clean.
---
[/lang]
[lang="ru"]
Очиститель стёкол во флаконе Soft99 Glaco Glass Compound Roll On
Средство специально предназначено для глубокой очистки стёкол автомобиля. Идеально для подготовки к нанесению водоотталкивающих средств серии Glaco. Glaco Glass Compound содержит очистители и абразив, удаляющие любые типы загрязнений, масляную плёнку и ранее нанесённые покрытия, с которыми не могут справиться спиртовые очистители.
Глубоко очищает стекла автомобиля от жирной плёнки и от въевшихся загрязнений
Идеально для подготовки к нанесению водоотталкивающих средств Glaco
Удаляет ранее нанесённые средства, с которыми не могут справиться спиртовые очистители
Содержит абразив
Способ применения
Вымойте стекло и вытрите насухо.
Встряхните флакон, не открывая его, снимите прозрачную крышку.
Прижмите фетровую часть к стеклу и натирайте его, сжимая флакон для выдавливания достаточного количества жидкости из него.
Натирайте поверхность до тех пор, пока средство не перестанет отталкиваться от стекла, дозируя количество поступающей жидкости таким образом, чтобы она не высохла.
После обработки тщательно промойте стекло водой и потрите губкой для мойки автомобилей.
После использования средства вытрите фетровую часть флакона салфеткой и просушите перед хранением.
[/lang]
Product Region:Japan
Contents:115ml
Handling Time:1 day