Welcome to Tsurugi Inc. Online Shop!
We can offer low prices and friendly customer service. All transaction are made via PayPal or Stripe, so we guarantee safe shopping experience with us. Please note, all prices are exclude shipping and handling. We do offer several shipping options, prices are calculated according to the cart weight and each product do have set weight.
For more information please check Shipping & Payment Info also please check Terms & Conditions.
---
Soft99 Glaco Quick Type
SGA009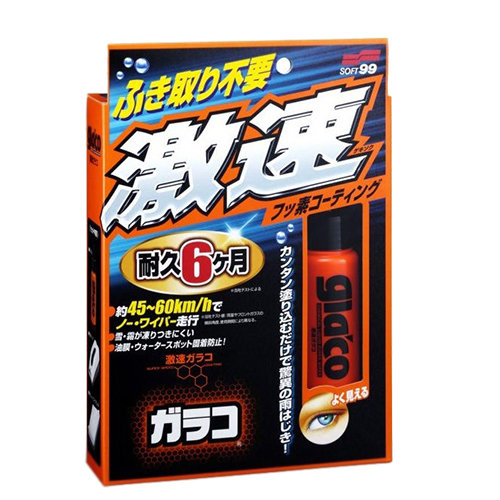 Choose your language: English | Russian
[lang="en"]
Just spread it on the windshield! Drying or wiping off is NOT necessary! The included pad and cloth help you spread it speedily on the wide windshield. Newly developed Silicon-resin brings out water-repellency for up to 6 months.
Directions to use
* Remove dirt with water and wipe off water drops remaining on the windshield.
1. Shake the bottle well with the cap on.
2. Put a moderate amount of liquid on the included pad.
3. Spread it evenly on the windshield, rubbing crisscross.
* Drying and wiping off are NOT necessary!
[/lang]
[lang="ru"]
Водоотталкивающее покрытие для стёкол "Антидождь" Soft99 Glaco Quick Type
Обладает сильным водоотталкивающим действием. Позволяет практически не пользоваться дворниками при скорости свыше 45 км/ч! На стекле, обработанном Glaco Quick Type вода собирается в капли и скатывается со стекла. Антидождь обеспечивает прекрасную видимость, каким бы сильным не был дождь, препятствует загрязнению стекла.Устойчив к использованию дворников, стеклоочистителей и автомойки. Прост в применении, так как не требует предварительной подготовки стекла для нанесения. При этом срок действия сохраняется до 6 месяцев.
Придаёт сильное водоотталкивающее свойство
Действует при скорости более 45 км/ч
Препятствует загрязнению
Используется на лобовом, заднем, боковых стёклах и боковых зеркалах
Наносится без предварительной чистки поверхности
Продолжительность эффекта - до 6 месяцев
Годен в течение 5 лет.
Способ применения
Хорошо очистите стекло от грязи, пыли и жира. Для достижения наилучшего эффекта и глубокой очистки используйте Glaco Glass Compound.
Дайте стеклу полностью высохнуть перед обработкой данным средством.
Встряхнув флакон, нанесите средство в форме буквы «М» на ткань, входящую в набор.
Данное средство быстро высыхает, поэтому обрабатывайте сначала одну половину лобового стекла, а затем таким же образом – вторую.
Натирайте стекло в разных направлениях, не оставляя разводов.
В процессе эксплуатации для обновления эффекта, можно обработать стекло повторно.
[/lang]
Product Region:Japan
Contents:50ml, Pad ×1, Cloth ×5
Handling Time:1 day