Welcome to Tsurugi Inc. Online Shop!
We can offer low prices and friendly customer service. All transaction are made via PayPal or Stripe, so we guarantee safe shopping experience with us. Please note, all prices are exclude shipping and handling. We do offer several shipping options, prices are calculated according to the cart weight and each product do have set weight.
For more information please check Shipping & Payment Info also please check Terms & Conditions.
---
Soft99 Glaco Roll On Instant Dry
SGA005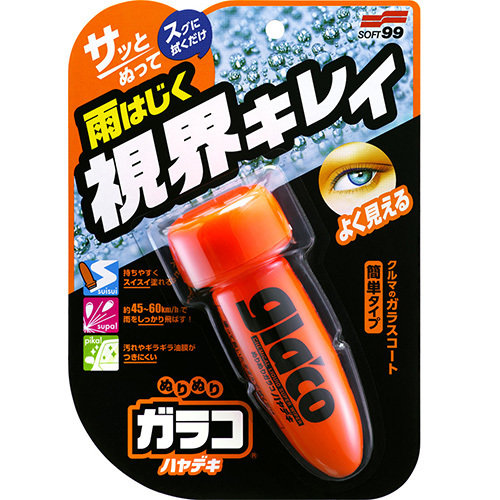 Choose your language: English | Russian
[lang="en"]
Retain conventional "Glaco Roll On" water repellency, achieves highly improved workability. Adopts "High Reactivity Silicone" which instantly settle on glass surface after applying. No need to dry before wiping off that conventional one needs 5-10 minutes drying.
It repels water drops while driving at a speed of 45km/h or more, and allows you to have clear visibility even drive in urban area.
Directions to use
* Remove dust or dirt from the windshield with water in advance then dry completely without remaining water drop.
1. Take off the cap.
2. Apply it on a dry windshield as 50cm square each or half size of windshield. Press the side of the bottle and let out large amount of liquid. Then no need to apply completely.
3. Immediately wipe off with dry clean towel to extend the liquid before it gets dry.
* Beware of adhering water 10 minutes after finish.
---
[/lang]
[lang="ru"]
Водоотталкивающее покрытие для стекол "Антидождь" Soft99 Glaco Roll On Instant Dry
Glaco обладает сильным водоотталкивающим действием. Теперь вы можете практически не пользоваться дворниками! На стекле, обработанном Glaco, при скорости от 45 км/ч вода собирается в капли и скатывается со стекла. Вам гарантирована прекрасная видимость, каким бы сильным не был дождь. Glaco обеспечивает прекрасную видимость во время дождя или сырой погоды, препятствует загрязнению.
Придаёт сильное водоотталкивающее свойство
Действует даже при скорости более 45 км/ч
Препятствует загрязнению
Продолжительность эффекта - до 3 месяцев
Способ применения
Хорошо очистите стекло от грязи, пыли и жира. Для достижения наилучшего эффекта и глубокой очистки используйте Glaco Glass Compound.
Открутите крышку флакона, чтобы открылась полирующая поверхность.
Приложите флакон фетровой поверхностью к стеклу и нанесите средство круговыми движениями на площадь в 50см2.
Нанесите на стекло 2-3 слоя полироля, тщательно растирая, чтобы не появлялось капель. Если вы случайно нанесли слишком много жидкости, и появились капли, не оставляйте их на стекле надолго.
Сразу после нанесения вытрите стекло сухим полотенцем.
Избегайте контакта с водой в течение 10 мин после нанесения
После нанесения Glaco избегайте использования сильных обезжиривающих средств для стекла. Для мытья стекол используйте обычную воду.
---
---
[/lang]
Product Region:Japan
Contents:75ml
Handling Time:1 day