Welcome to Tsurugi Inc. Online Shop!
We can offer low prices and friendly customer service. All transaction are made via PayPal or Stripe, so we guarantee safe shopping experience with us. Please note, all prices are exclude shipping and handling. We do offer several shipping options, prices are calculated according to the cart weight and each product do have set weight.
For more information please check Shipping & Payment Info also please check Terms & Conditions.
---
PRO STAFF Side Mirror Coating
PGM001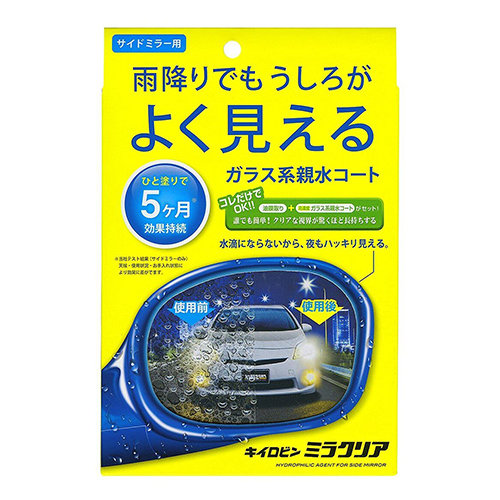 ---
PRO STAFF Side Mirror Stain Cleaner Water Repellent!
The repellent prevents water from remaining on the surface even for a moment by lining the mirror with super-fine, microscopic studs.
When driving on a rainy day, there is a drop of water on the side mirror, have you ever thought that "it is hard to see backwards"?
To eliminate such danger, a hydrophilic agent for side mirror new appearance from the Kirobin series!
Just by dropping the oil film with the supplied oil film remover and painting a single hydrophilic coating agent, convert the water droplets into water film and make the visibility of the side mirrors clear.
Moreover, the effect lasts for 5 months (*)! High concentration glass type hydrophilic agent strongly coats the mirror surface and prevents stains from adhering at the rain.
With this alone, we can drive safely even during the rainy day and night.
Easy to clean. Just rinse with water and OK!
Directions to use
1. Clean the side mirror with car shampoo or the like. If the oil-film or water repellent agent adheres, remove it with the cleaner.
2. Dry completely (in the summer for 1 hour, in the winter for 2 hours) and do not touch until dry.
Product Region:Japan
Handling Time:1 day