Welcome to Tsurugi Inc. Online Shop!
We can offer low prices and friendly customer service. All transaction are made via PayPal or Stripe, so we guarantee safe shopping experience with us. Please note, all prices are exclude shipping and handling. We do offer several shipping options, prices are calculated according to the cart weight and each product do have set weight.
For more information please check Shipping & Payment Info also please check Terms & Conditions.
---
Soft99 Ultra Glaco Long Type
SGA002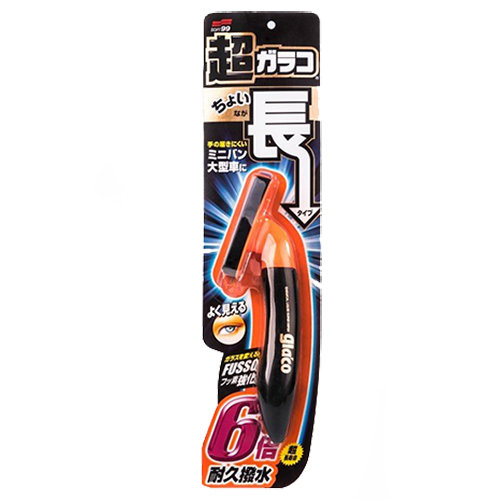 Choose your language: English | Russian
[lang="en"]
The long bottle helps you apply easily even on the center or upper parts of the glass. Also, the head is designed with a thin square shape and allows you to apply even under car-visors in a flash. Once you apply it, the water repellency lasts for a long time, therefore, we recommend it to those who want more durability.
Directions to use:
* Remove dust or dirt from the windshield with water in advance.
1. Shake the bottle well with the cap on.
2. Take the cap off and apply it evenly on dry windshield.* Do not apply it on wet windshield otherwise it may cause damage to the surface.3. After drying for 5-10 minutes, wipe it off with a dry, clean towel, afterward dry for more than 12 hours, in order to make the coating adhere firmly to the windshield.
[/lang]
[lang="ru"]
Антидождь SOFT99 Ultra Glaco Long Type
UltraGlaco обладает сильным водоотталкивающим действием. Теперь вы можете практически не пользоваться дворниками!
На стекле, обработанном UltraGlaco, при скорости от 50 км/ч вода собирается в капли и скатывается со стекла. Вам гарантирована прекрасная видимость, каким бы сильным не был дождь.
UltraGlaco обеспечивает прекрасную видимость ночью, а также во время тумана и снега.
UltraGlaco препятствует загрязнению стекла (брызги грязи, птичий помет, насекомые, гудрон) и обеспечивает обезжиривающий эффект.
Новая конструкция ручки позволяет обрабатывать большие поверхности стекол автобусов и минивэнов.
UltraGlaco можно наносить не только на ветровое стекло, но и на заднее, боковые стекла и боковое зеркало.
Благодаря фтор полимеру, входящему в состав, водоотталкивающий эффект длится до 1 года!
Способ применения:
Хорошо очистите стекло от грязи, пыли и жира. Для достижения наилучшего эффекта и глубокой очистки используйте Glaco Glass Compound.
Открутите крышку флакона, чтобы открылась полирующая поверхность.
Приложите флакон фетровой поверхностью к стеклу и быстро нанесите средство.
Нанесите на стекло 2-3 слоя полироля, тщательно растирая, чтобы не появлялось капель и пропущенных мест.
Если вы случайно нанесли слишком много жидкости, и появились капли, не оставляйте их на стекле надолго.
Через 5-10 мин вытрите стекло тщательно выжатым полотенцем.
Если водоотталкивающий эффект оказался слабым, то включите дворники на максимальную частоту, после повторите нанесение. Таким образом, защитная оболочка станет более надежной.
После нанесения Glaco избегайте использования сильных обезжиривающих средств для стекла.
Для мытья стекол используйте обычную воду.
Состав: кислоты, спирт.
Объем: 115 мл.
[/lang]
Product Region:Japan
Contents:115ml
Handling Time:1 day