Welcome to Tsurugi Inc. Online Shop!
We can offer low prices and friendly customer service. All transaction are made via PayPal or Stripe, so we guarantee safe shopping experience with us. Please note, all prices are exclude shipping and handling. We do offer several shipping options, prices are calculated according to the cart weight and each product do have set weight.
For more information please check Shipping & Payment Info also please check Terms & Conditions.
---
AION Plas Senu Sponge
ACT017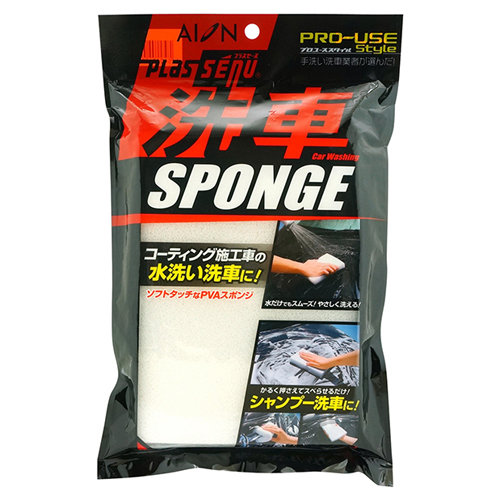 ---
PVA Micro Pore Sponge for Coating Car is very safe, durable sponge available for both of car wash with water and with shampoo.

Product introduction
It corresponds to both a washing car wash and a shampoo wash, and is an ideal car wash sponge which combines durability and cleaning performance.
Because it is quite familiar with water, a thin film of water is formed between the body and the sponge, and the body surface slides smoothly. Besides, it is a soft sponge with fine pores, so wipe off dirt without damaging the body.
Because it is a thin type, it fits into the interior of the gap and fine parts, you can wash every corner.
Ideal for washing of coated cars.
Material: Polyvinyl Alcohol Sponge
Size: approx. 180x130x25mm
Color: White
Usage notes
1. Please make sure that no pebbles or sandy dust remain.
2. Include plenty of moisture in the sponge and please wash.
3. Although this product will become hard when dry, it will soften when attached to water or lukewarm water.
Product Region:Japan
Contents:Size approx.180x130x25mm
Handling Time:1 day