CCI Smart Mist Body Coating Hydrophilic Type 180ml
SMA008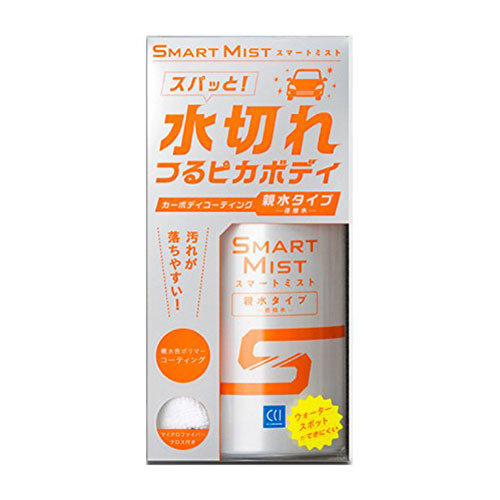 Spray on a wet car body after wash, then wipe it off (can also be used for dry body). Make your car shine and gloss like after wax usage with a simple spray and wipe. Easy to use without effort, will see instant result. Just wipe off the water drop with a dedicated microfiber cloth and wipe it up with a spreading image to complete it.
Hydrophilic polymer coating prevents from remaining water droplets, and there is no worry that water droplets on the body will collect light like lenses and damage the paint.
It is highly resistant to soiling and can also expect self-cleaning action of dirt adhering to the body flowing while dropping filmy water.
Ideal for coating cars to restore wax repellency and gloss.
Can be used on any prts such as wheels, unpainted resin part, glass, dashboard etc.
*Please do not use it where there is a fear of hindrance to driving,such as steering wheels, brakes, engine, muffler,etc. where it gets hot.
p>
Direction to use:
1. Wash away sand, dust and dirt.


2. Shake the bottle well and turn the nozzle tip to the "ON" position.
3. Spray on the wet car body.
※ Its also can be used on the dry car body.
※ Do not spray to much of the liquid to prevent uneveness spots. In the unlikely event of unevenness, wipe again with a clean wet towel.
※ Approximate usage amount is one push per door (about 80 cm square).
※ Please do not spray the entire body at once, please divide parts such as bonnet, roof, side, trunk etc.
※ Do not spray directly on the spot where liquid splashing or moisture is to be sprayed, please spray on the cloth for wiping.
4. Wipe the car body up with a wiping cloth provided.
※ When unevenness occurs clean the cloth thoroughly and wipe again.
※ To use cloth again, wash it with the neutral detergent.
Product Region:Japan
Contents:180ml
Handling Time:2 Days