Welcome to Tsurugi Inc. Online Shop!
Place where you can buy any product manufactured and made in Japan!
We can offer low prices and friendly customer service. All transactions are made via PayPal or Stripe, so we guarantee safe shopping experience. Please note, all prices are excluding shipping and handling. We do offer several shipping options, prices are calculated according to the cart weight and each product do have set weight.
If you cannot locate product and you are sure it's made in Japan – simply just leave us a note and we will do our best to sort it out!
For more information please check Shipping & Payment Info also please check Terms & Conditions.
CCI Smart Shine Coating Agent Head Light Cleaner & Coat
SMA022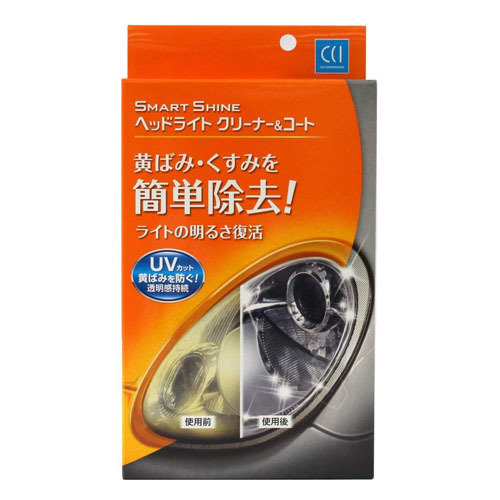 Smart Shine Coating Agent Head Light Cleaner & Coat
Easily removes the yellowing and dullness of the headlight and restore the brightness of the light. The main cause of yellowing headlights is ultraviolet rays. Because special UV-cut polymer is compounded, transparency will be maintained by preventing yellowing due to ultraviolet light even after use.
Directions to use:
1. Please wash the parts to be used and wipe off moisture.
2. Please shake the bottle well with the cap closed.
3. Please put some liquid on to attached cloth, please polish with putting some power.
4. Please wipe up with a clean surface of the cloth.

※ If yellowing or dullness is difficult to fall down, please repeat the operations 3 and 4.
Product Region:Japan
Handling Time:5 Days