Welcome to Tsurugi Inc. Online Shop!
Place where you can buy any product manufactured and made in Japan!
We can offer low prices and friendly customer service. All transactions are made via PayPal or Stripe, so we guarantee safe shopping experience. Please note, all prices are excluding shipping and handling. We do offer several shipping options, prices are calculated according to the cart weight and each product do have set weight.
If you cannot locate product and you are sure it's made in Japan – simply just leave us a note and we will do our best to sort it out!
For more information please check Shipping & Payment Info also please check Terms & Conditions.
CCI Smart Mist EX Cleaner Set Body Coating 180ml
SMA002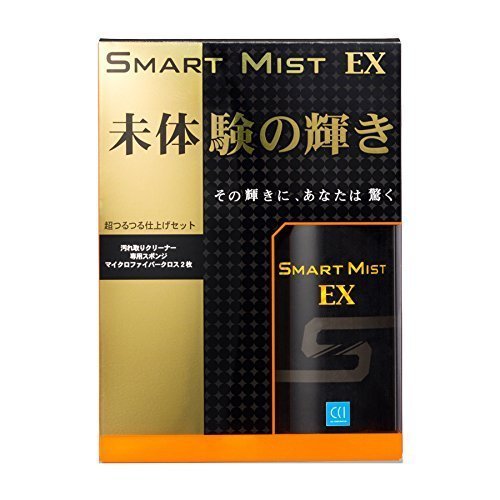 Spray on a wet body after car wash, then wipe it off (can also be used for dry body).
Make your car shine and gloss like after wax usage with a simple spray and wipe. A hybrid structure with two types of special glass components and a high brightness polymer make the brightness and deep gloss of the smart mist series No.1.
Available for all body colors. Especially recommended for dark vehicles such as black or red.
Smart mist EX Direction to use:
1.Wash the car to remove dirt and sand.
2.Wipe remaining moisture of your car body
3.Wipe your car with the Smart Ex Dirt Remover
※ With Dirt Remover, we will pull out the performance of "Smart Mist EX" to the maximum.
4.When the body surface dries white, wipe it up with the supplied wiping cloth (small).
5. Shake the bottle well and turn the nozzle tip to the "ON" position.
6. Spray on the wet car body.
※ Its also can be used on the dry car body.
※ Do not spray to much of the liquid to prevent unevenness spots. In the unlikely event of unevenness, wipe again with a clean wet towel.
※ Approximate usage amount is one push per door (about 80 cm square).
※ Please do not spray the entire body at once, please divide parts such as bonnet, roof, side, trunk etc.
※ Do not spray directly on the spot where liquid splashing or moisture is to be sprayed, please spray on the cloth for wiping.
7. Wipe the car body up with a wiping cloth provided.
※ When unevenness occurs clean the cloth thoroughly and wipe again.
※ To use cloth again, wash it with the neutral detergent.
Product Region:Japan
Contents:180ml
Handling Time:2 Days