Welcome to Tsurugi Inc. Online Shop!
We can offer low prices and friendly customer service. All transaction are made via PayPal or Stripe, so we guarantee safe shopping experience with us. Please note, all prices are exclude shipping and handling. We do offer several shipping options, prices are calculated according to the cart weight and each product do have set weight.
For more information please check Shipping & Payment Info also please check Terms & Conditions.
---
Carall Headlight Kusumitori Cleaner
CEC001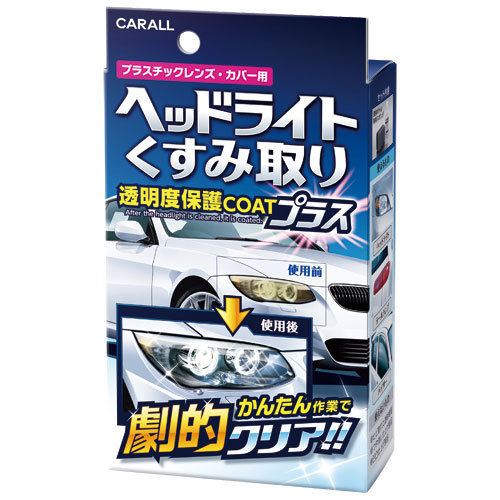 Choose your language: English / Russian
[lang="en"]
It restores the transparency and vivid color like a new car, when you apply this product on transparent resin parts such as headlights, winkers or car-visors which lost transparency by deterioration after they have been used for a long time.
The effect of Carall Headlight Kusumitori Cleaner makes yellowing transparent resin beautiful.
Furthermore, the effect lasts for more than 12 months, at the same time at brings out high water repellency and prevents deterioration of resin itself.
1. Remove dirt or oil completely in advance. If you use water to do, dry until no water drops remains.
* We recommend masking around the area that you will apply.
2. Wear the protection gloves and shake the bottle well. Afterward, put the liquid on the included sponge and spread it evenly.
3. Spread it evenly again with another clean sponge. Do not use the sponge which you already used.
* Do not touch or wet the car for 24 hours after applying. And the coating film takes 3-4 days to harden completely.
[/lang]
[lang="ru"]
Полироль для автомобильных фар Carall Headlight Kusumitori Cleaner
Средство возвращает прозрачность фарам. Происходит удаление желтизны, тусклости передних фар, заднего фонаря, светозащитного козырька и т.п.
Полироль очень прост в применении, а одного флакона хватит примерно на 8 фар обычного автомобиля. Во время полировки наносится твердый полимер, защищающий от ИК-лучей.
Способ применения:
В случае большого количества песка пыли, грязи и т.д. удалите их водой и после этого протиркой тщательно удалите влагу.
Хорошо взболтайте емкость, нанесите оптимальное количество состава на серую сторону губки и начинайте полировать поверхность.
После сушки окончательно протрите сухой тканью.
Эффект будет отсутствовать в случае глубоких царапин, а также в случае грязи и изменения цвета с внутренней стороны рассеивателей.
Ввиду присутствия в составе полирующего компонента, будьте внимательно, избегайте чрезмерной полировки.
[/lang]
Product Region:Japan
Contents:80ml
Handling Time:1 day