MTG ReFa 4 CARAT ( for face & body)
REF005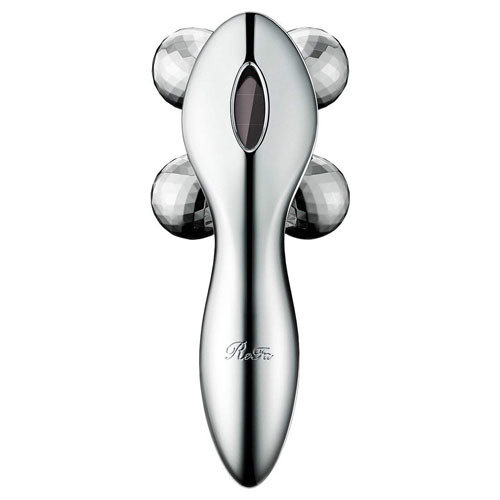 Dual rolling designed to deliver consecutive kneading.
Awaken the beauty within, with double the pleasure.
ReFa 4 CARAT features four multi-angular rollers that provide 360-degree coverage. The spacing and angle between each roller is precisely calculated to deliver a "double kneading", a mechanism to replicate the continuous and consecutive kneading by a skilled hand.
The four rollers effectively draw in the skin from all angles, efficiently tightening not only the face, but the neck, hip, and waist as well.
Description
Esthetic Method
Four specially shaped diamond-cut rollers tighten the skin with "Double Kneading", a method to replicate the consecutive and continuous feeling of a professional hand treatment.
Microcurrent
Very mild microcurrent is generated by drawing light into a solar panel fixed in the handle.
Platinum Coating
The surface of each roller is coated in brilliant platinum, making it compatible for even the most delicate skin.
Waterproof Construction
Conforms with waterproof JIS standards (equivalent to IPX7). This product is submersible in water and may be used in the bathtub.
Specifications
Product Name: ReFa 4 CARAT
Model: RF-FC1932B
Roller Shape: Double spherical drainage rollers (440-sided polyhedron x 2)
Roller Coating: Platinum (Pt)
Circuitry: Microcurrent via current-carrying bearings
Handle Shape: Arch handle
Construction:Materials: ABS, Acrylic, Stainless Steel, Nylon, Silicone Rubber, Aluminum, Platinum (Pt)
Product Region:Japan
Contents:Refa 4 Carat ,Cleaning Cloth, Pouch, Instruction Manual, Guidebook, Caution, Warranty Card
Handling Time:5 Days