Welcome to Tsurugi Inc. Online Shop!
Place where you can buy any product manufactured and made in Japan!
We can offer low prices and friendly customer service. All transactions are made via PayPal or Stripe, so we guarantee safe shopping experience. Please note, all prices are excluding shipping and handling. We do offer several shipping options, prices are calculated according to the cart weight and each product do have set weight.
If you cannot locate product and you are sure it's made in Japan – simply just leave us a note and we will do our best to sort it out!
For more information please check Shipping & Payment Info also please check Terms & Conditions.
Mont-Bell Down Hugger 800 EXP
MGS092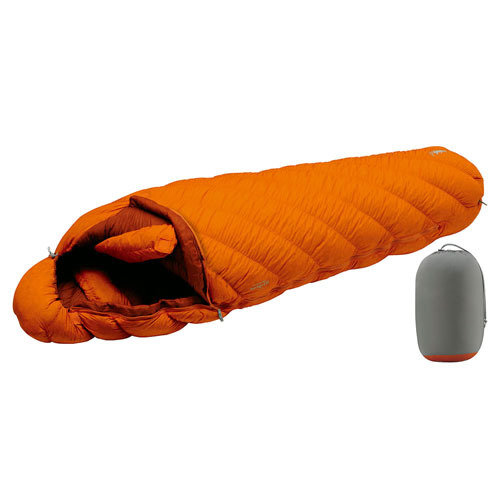 Ultra-lightweight; extraordinarily comfortable. This high-quality sleeping bag stores super compactly. Geared toward polar regions, this model was designed using many years of field experience and cutting-edge technology. It can withstand intense cold and polar temperatures.
Specs
Material: [Fabric] front fablic:10-denier Ballistic® Airlight [DWR] POLKATEX® DWR treatment
Weight: 1,493g (1,547g) (weight with stuff bag)
Color: PERSIMMON (PRSI)
Size: R/ZIP, L/ZIP
Compressed size: φ22×44cm (13.4L)
EN TESTED: -14℃ (Comfort), -22℃ (Lower Limit)
Max User Height: 183cm
Details
Super Spiral-Stretch System
Offering sweet dreams with superior stretch and comfort for all shapes and sizes
By orienting the fabric's warp and weft threads at 45 degrees to most major seam lines the sleeping bag becomes more fluid or elastic in nature. Additionally, to create an even more comfortable system we utilize an elastic stitch technique to create small "gathers" in the quilting. By combining the strategic seam orientation and the elasticized gathers we offer unrivaled fit and comfort.
About the material: EX Down
World class, high quality down
Montbell's premium down comes from water fowl that live in regions with seasonal temperature extremes. The down balls from birds in such regions are characteristically much larger.
Large down balls hold more warm air, which translates to needing less down to provide exceptional warmth retention.

Lightweight yet warm
When compared by weight to lower quality down, an equal amount of premium down is loftier and has better warmth retaining properties.
About Ballistic Airlight
Ballistic Airlight is made using the same nylon polymer as our Ballistic material and a highly technical production process to create extremely fine, super thin threads. These threads are then woven into ultralight, gossamer fabrics that share the same characteristics as Ballistic: one and a half times more abrasion resistance than other similar weight fabrics and boasts three times the tear strength of nylons that are almost 20% heavier. Additionally, Ballistic Airlight is often woven using different techniques to create fabrics with radically different characteristics, such as fabrics that allow the garment to stretch or fabrics that "breathe" to release built up heat and moisture.
BIAS STRETCH
Woven fabrics typically do not stretch vertically or horizontally without the utilization of heavy elastic materials. However, when stressed along the diagonal the same fabric will show stretch characteristics.
What is EN 13537?
The European Norm (EN) is a test designed and performed by an independent third party that seeks to standardize the way temperature ratings or thermal guidelines are established for sleeping bags.
POLKATEX: World class water repellent

Compared to standard water repellents, POLKATEX is world class water repellent due to its lasting durability. POLKATEX not only repells light rain easily, it also has oil repelling properties making it resistant to staining as well. Montbell's original application technique prevents POLKATEX from peeling off due to abrasion or washing, two of the most common reasons a standard water repellent will wear down over time.
Cotton storage sack included
Product Region:Japan
Handling Time:5 Days
Zip Side
Right (0) Left (0)