Mont-Bell Down Hugger 900 #1
MGS086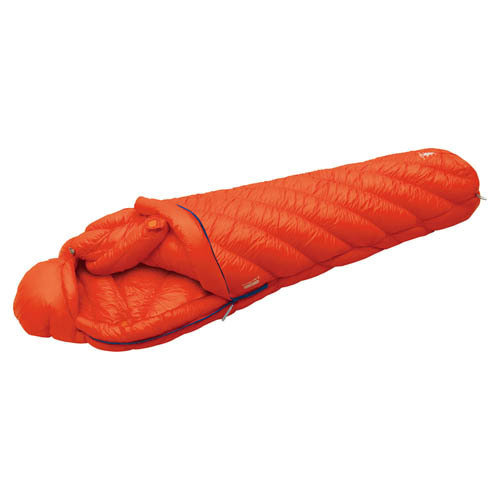 Product Description
This incredibly comfortable flagship model has excellent heat retention and is very lightweight. This model is suitable for use in a wide range of winter climbing situations at most 2, meter-high Japanese mountains.
Specs
Material: 7-denier Ballistic® Airlight rip-stop nylon
Polkatex DWR treatment
Weight: 821g(850g)  (with staff sack)
Color: ORANGE (OG)
Size: Maximum height 183cm
Details
900 Fill Power EX Down
Fill power refers to the volume in cubic inches that 1 ounce of down will displace. All other things being equal (fabric, construction method, and fill amount), a product made with high fill power down (900) is lighter and more compressible than an equally warm one made with lower quality down (550).
Super Spiral-Stretch System
Offering sweet dreams with superior stretch and comfort for all shapes and sizes
By orienting the fabric's warp and weft threads at 45 degrees to most major seam lines the sleeping bag becomes more fluid or elastic in nature. Additionally, to create an even more comfortable system we utilize an elastic stitch technique to create small "gathers" in the quilting. By combining the strategic seam orientation and the elasticized gathers we offer unrivaled fit and comfort.
BIAS STRETCH
Woven fabrics typically do not stretch vertically or horizontally without the utilization of heavy elastic materials. However, when stressed along the diagonal the same fabric will show stretch characteristics.
FlowGate Insulation Technology
About the material: Ballistic Airlight
Ballistic Airlight is made using the same nylon polymer as our Ballistic material and a highly technical production process to create extremely fine, super thin threads. These threads are then woven into ultralight, gossamer fabrics that share the same characteristics as Ballistic: one and a half times more abrasion resistance than other similar weight fabrics and boasts three times the tear strength of nylons that are almost 20% heavier. Additionally, Ballistic Airlight is often woven using different techniques to create fabrics with radically different characteristics, such as fabrics that allow the garment to stretch or fabrics that "breathe" to release built up heat and moisture.
What is EN 13537?
The European Norm (EN) is a test designed and performed by an independent third party that seeks to standardize the way temperature ratings or thermal guidelines are established for sleeping bags.
POLKATEX: World class water repellent
Compared to standard water repellents, POLKATEX is world class water repellent due to its lasting durability. POLKATEX not only repells light rain easily, it also has oil repelling properties making it resistant to staining as well. Montbell's original application technique prevents POLKATEX from peeling off due to abrasion or washing, two of the most common reasons a standard water repellent will wear down over time.
Cotton storage sack included
Product Region:Japan
Handling Time:5 Days