Mont-Bell Down Hugger 900 #2 Black Edition
MGS091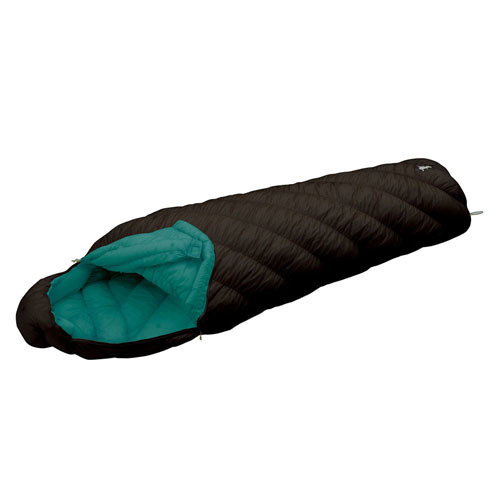 By adopting a classic tailor's trick and paring it with only the best materials available Mont Bell has brought extreme comfort and thermal efficiency to the ultralight world. We found that integrating a woven fabric "cut on the bias" and orienting the fabric's warp and weft threads at 45 degrees to most major seam lines the sleeping bag becomes more fluid in nature. To create an even more comfortable system we utilize an elasticized thread in the stitch to create small "gathers" in the quilting. Through the combination of strategic seam orientation and the stretch provided by gathered quilting we offer unrivaled fit and comfort. These innovations allow the sleeping bag to move with you as you change positions throughout the night, drawing the premium 900 fill goose down closer to your body and eliminating drafty dead spaces. Keep body heat inside your sleeping bag, where it belongs.
*Backpacker Editors' Choice Award 2014
Specs
Material: (Insulation) 800 Fill Power EX Down / (Fabric) 8-denier Ballistic® Airlight Nylon / (DWR) Polkatex DWR treatment
Weight: 690g
Color: BLACK (BK)
Compressed size: φ15 x 30 cm), 4.2 L
Features: Super Spiral Stretch System (US. Patent NO. 7,900,301) / Multi-Tube Construction with Flow Gate technology / Draw cord for face hole adjustment / Neck Baffle: a shoulder collar minimizes air circulation through the top of the bag / Dual insulated zipper draft tubes / Auto Locking Zipper to limit zipper "slip" during the night / 2-way, 170cm mating right hand zipper ONLY / Tapered, bias stretch stuff sack for easier packing included / Cotton storage sack included
[EN TESTED] 1℃ (Comfort), /-5℃ (Lower Limit), -22℃ (Extreme)
Details
Super Spiral-Stretch System
Offering sweet dreams with superior stretch and comfort for all shapes and sizes
By orienting the fabric's warp and weft threads at 45 degrees to most major seam lines the sleeping bag becomes more fluid or elastic in nature. Additionally, to create an even more comfortable system we utilize an elastic stitch technique to create small "gathers" in the quilting. By combining the strategic seam orientation and the elasticized gathers we offer unrivaled fit and comfort.
BIAS STRETCH
Woven fabrics typically do not stretch vertically or horizontally without the utilization of heavy elastic materials. However, when stressed along the diagonal the same fabric will show stretch characteristics.
What is EN 13537?
The European Norm (EN) is a test designed and performed by an independent third party that seeks to standardize the way temperature ratings or thermal guidelines are established for sleeping bags.
The history and evolution of Montbell sleeping bags
For overnight hikes or long trails, a good night's sleeping is extremely important. If fatigue carries over to the next day due to a lack of sleep, it can contribute to an inability to concentrate, which could possibly lead to a stumble and maybe even injury. "Warmth" especially is a crucial element that can determine whether or not you get a good night's sleep. Montbell's president Fumiaki Masaki will take us through a history of sleeping bags in Japan, the transitions in insulating materials, design and functionality, and the ever important concept of "warmth".
POLKATEX: World class water repellent
Compared to standard water repellents, POLKATEX is world class water repellent due to its lasting durability.
POLKATEX not only repells light rain easily, it also has oil repelling properties making it resistant to staining as well. Montbell's original application technique prevents POLKATEX from peeling off due to abrasion or washing, two of the most common reasons a standard water repellent will wear down over time.
Product Region:Japan
Handling Time:5 Days