Welcome to Tsurugi Inc. Online Shop!
We can offer low prices and friendly customer service. All transaction are made via PayPal or Stripe, so we guarantee safe shopping experience with us. Please note, all prices are exclude shipping and handling. We do offer several shipping options, prices are calculated according to the cart weight and each product do have set weight.
For more information please check Shipping & Payment Info also please check Terms & Conditions.
---
Soft99 Carbon Fibre Putty 320g
SCP072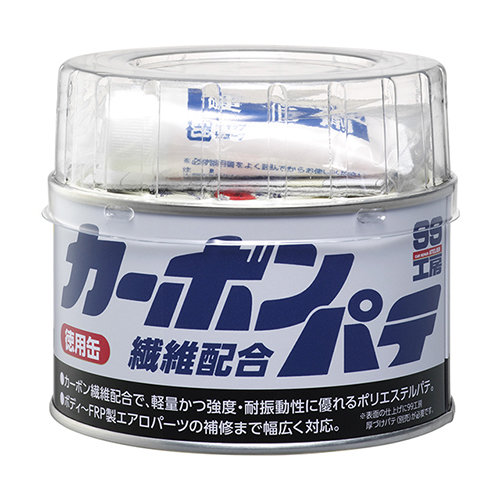 ---
Polyester resin made putty combines carbon fiber which is superior to light weight, strength and vibration resistance. Compare with conventional, we improve approx 20% lighter and deforming resistance. This fills iron, FRP and resin hole and cracking. Also improves efficient work and easy to polish. 320g type can use for wide area.
Directions to use
1. Rub on the area being repaired with the 150-grit sandpaper, and remove oil by silicone off.
2. Take out a moderate amount of the putty, and mix it well with hardener.
3. Apply the mixed putty on the area being repaired with the included spatula while filling in the scratch.
4. After it hardens (for about 1hour), make the surface smooth with the 320-grit sandpaper.
5. Finish up with Atelier 99 Polyester Body Putty (sold separately) and Atelier 99 Body Paint (sold separately).
Product Region:Japan
Contents:Main Agent: 320g, Hardener: 15g
Handling Time:10 days