Welcome to Tsurugi Inc. Online Shop!
We can offer low prices and friendly customer service. All transaction are made via PayPal or Stripe, so we guarantee safe shopping experience with us. Please note, all prices are exclude shipping and handling. We do offer several shipping options, prices are calculated according to the cart weight and each product do have set weight.
For more information please check Shipping & Payment Info also please check Terms & Conditions.
---
Soft99 Color Evolution (5 types)
SEW047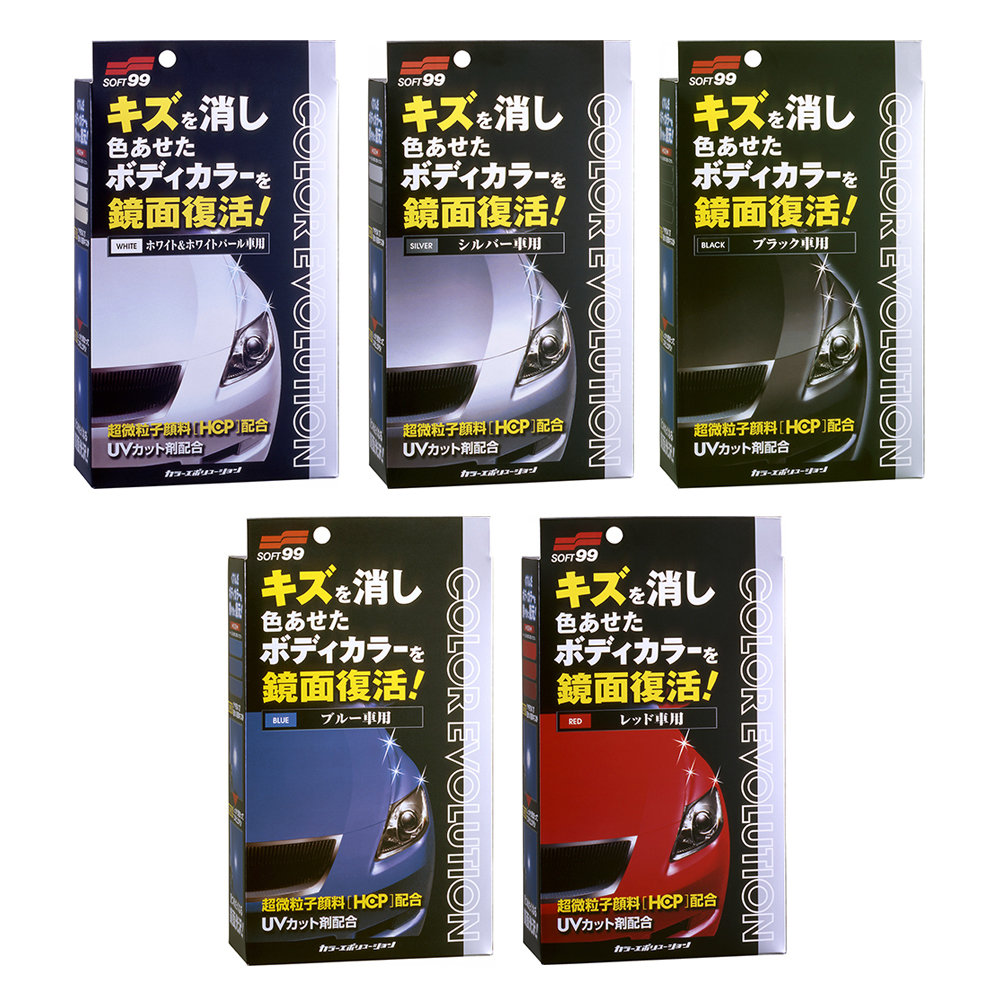 Choose your language: English | Russian
[lang="en"]
With our state-of-the-art coating technology, this super micro-particle pigment can get deep into minor scratches, fill them, and brilliantly restore the car's original body color. A urethane + acryl resin layer and wax layer together create a mirror-like finish and a deep gloss, much like a clear coating. This liquid spreads easily and can achieve beautiful results without unevenness just with light application. Furthermore, its barrier coating is sufficient enough to protect body paint from slight damage, scratches, and color fading. The beautiful finish can last up to 1 month. Also includes a special sponge, gloves, and wiping cloth. No compounds included.
Directions to use
1. Make sure that your car is compatible with this product by testing it on some small area first.
2. Wash off dust and dirt and wipe off remaining water drops.
* If car is dirty with stubborn dirt and so on, clean with a car shampoo or cleanser. Also, if car surface is rough, use SOFT 99 Surface Smoother in advance.
3. Shake the bottle well, use a moderate amount of the liquid on the yellow side of the included sponge and spread it evenly on car surface.
After the surface completely dries (5-10 minutes in the summer, 15-25 minutes in the winter), wipe off solution with the included cloth. Wipe it off completely, otherwise it may cause spots or unevenness.
Repeat this process on each panel of the car, for example, the roof, the hood, and the doors.
[/lang]
[lang="ru"]
Цветовосстанавливающий полироль для кузова автомобиля Soft99 Color Evolution
Содержит в своем составе цветной пигмент, который усиливает цвет кузова и маскирует мелкие сколы. В Color Evolution использована новейшая технология "Pixel Coat". За счёт содержания высококачественной краски, уретана, акриловой смолы и воска, покрытие заставит блестеть корпус Вашего автомобиля с новой силой. Используйте для цветов, указанных на торце коробки.
Усиливает цвет кузова
Маскирует мелкие царапины
Возвращает блеск корпусу автомобиля
Способ применения
Очистите корпус автомобиля от грязи и песчинок.
Не обрабатывайте полиролем разогретый корпус.
Избегайте работать под прямыми солнечными лучами.
Налейте немного полироля на губку и равномерно нанесите на поверхность.
Обработайте по очереди крышу, капот, двери.
Когда поверхность высохнет, разотрите прилагающейся салфеткой.
Через 24 часа слой воска полностью высохнет, и поверхность приобретет красивый блеск.
Если после первой обработки на корпусе остались царапины, повторите процедуру через 2-3 дня.
[/lang]
---
Product Region:Japan
Contents:100ml
Handling Time:1 day