Welcome to Tsurugi Inc. Online Shop!
We can offer low prices and friendly customer service. All transaction are made via PayPal or Stripe, so we guarantee safe shopping experience with us. Please note, all prices are exclude shipping and handling. We do offer several shipping options, prices are calculated according to the cart weight and each product do have set weight.
For more information please check Shipping & Payment Info also please check Terms & Conditions.
---
Soft99 Glaco Glass Compound Sheet
SGA012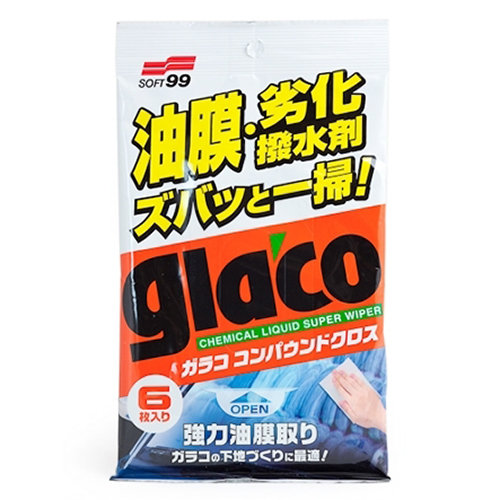 Choose your language: English | Russian
[lang="en"]
This abrasive compound, which is used to polish optical lenses, can remove oil film and old dirt coating without damaging the glass surface. It doesn't leave oil film or dirt after wiping, so we recommend using this before applying any sort of glass coating.
Directions to use
1. Remove a sheet from the package.
2. Fold the sheet as necessary, and wipe the glass until the surface stops repelling the liquid.
3. If sheet gets dry, re-fold it and continue to use a clean side.
[/lang]
[lang="ru"]
Очищающие салфетки для стёкол с абразивом Glaco Glass Compound Sheet
Салфетки предназначены для глубокой очистки стёкол автомобиля. Идеально подходят для подготовки к нанесению водоотталкивающих средств серии Glaco. Салфетки Glaco Glass Compound содержат очистители и абразив, удаляющие любые типы загрязнений, масляную плёнку и ранее нанесённые покрытия, с которыми не могут справиться спиртовые очистители.
Глубоко очищают стёкла автомобиля
Идеальны для подготовки к нанесению водоотталкивающих средств Glaco
Удаляют ранее нанесённые средства, с которыми не могут справиться спиртовые очистители
Содержат абразив
Способ применения
Помойте автомобиль и вытрите насухо.
Снимите верхнюю плёнку и достаньте салфетку. Сложите салфетку и обрабатывайте поверхность, не прилагая усилий. По мере загрязнения и высыхания салфетки, меняйте стороны, стараясь всегда протирать чистой и влажной стороной. Натирайте поверхность до тех пор, пока жидкость не перестанет от неё отталкиваться.
Оставшийся, после обработки, белый налет, тщательно сотрите чистым сухим полотенцем либо промойте водой.
[/lang]
Product Region:Japan
Contents:6 sheets
Handling Time:1 day