Welcome to Tsurugi Inc. Online Shop!
We can offer low prices and friendly customer service. All transaction are made via PayPal or Stripe, so we guarantee safe shopping experience with us. Please note, all prices are exclude shipping and handling. We do offer several shipping options, prices are calculated according to the cart weight and each product do have set weight.
For more information please check Shipping & Payment Info also please check Terms & Conditions.
---
Willson Headlight & Plastics Cleaner (2 sizes)
WEC001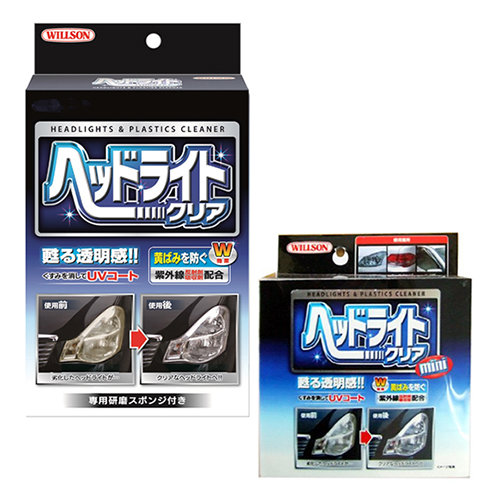 Choose your language: English | Russian
[lang="en"]
Restores the transparency and vivid color like a new car, when you apply this product on transparent resin parts such as headlights,
winkers or car-visors which lost transparency by deterioration after they have been used for a long time.
The effect of Willson Cleaner makes yellowing transparent resin beautiful.
Furthermore, the effect lasts for more than 12 months, at the same time at brings out high water repellency and prevents deterioration of resin itself. The two types of UV protection components blended prevent the re deposition of yellowing and dullness.

Directions to use:
1. Remove dirt or oil completely in advance. If you use water to do, dry until no water drops remains.
* We recommend masking around the area that you will apply.
2. Wear the protection gloves and shake the bottle well. Afterward, put the liquid on the included sponge and spread it evenly.
3. Spread it evenly again with another clean sponge. Do not use the sponge which you already used.
* Do not touch or wet the car for 24 hours after applying. And the coating film takes 3-4 days to harden completely.
[/lang]
[lang="ru"]
Полироль для фар и прозрачного пластика Willson Headlight & Plastics Cleaner
Восстанавливает прозрачность и первоначальный блеск фар, устраняет мелкие царапины.
Предотвращает пожелтение и помутнение пластика, позволяет восстановить прозрачность и первоначальный блеск фар, устраняет любые загрязнения и мелкие царапины. Содержащиеся в составе активные вещества позволяют отражать ультрафиолетовые лучи и блокировать их негативное воздействие на поверхность пластика.
Расход средства: до 20 обработок.
Тип обрабатываемой поверхности: прозрачный пластик, пластиковые фары. Не используйте состав на кузове, зеркалах, бамперах, шинах, резине, коже и других окрашенных деталях.
В комплекте: губка для нанесения, салфетка для полировки
Способ применения:
Перед использованием состава удалите грязь с поверхности.
Хорошо встряхните флакон с составом перед использованием.
Нанесите состав на губку и равномерно нанесите на поверхность.
Разотрите состав входящей в комплект салфеткой.
Если желаемый эффект не достигнут, повторите процедуру несколько раз.
Предупреждение:
Состав не удаляет глубокие царапины и помутнения внутри фар.
Не пить, не принимать в пищу. Опасно для жизни.
Избегать попадания на кожу. Работать в защитных перчатках.
Хранить в местах недоступных для детей.
Огнеопасно. Не хранить и не работать вблизи открытого огня.
При попадании внутрь немедленно обратиться к врачу.
При попадании в глаза, на кожу лица и тела немедленно промывать под струей воды не менее 15 минут. Если самочувствие не улучшается, немедленно обратиться к врачу.
Объем: 170мл или 50мл.
[/lang]
Product Region:Japan
Handling Time:1 day
Type
Standart 170ml (0) Mini 50ml (0)