Tsurugi Inc. Response to COVID-19
Please read before buying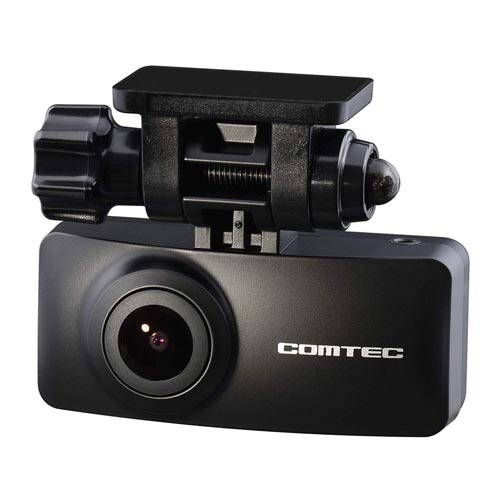 Drive Recorder Comtec ZDR026
SKU TAD007
Product Details
Product introduction
■ Record both front and back with 3.7 million pixels of WQHD!
When traveling with two cameras, the front / rear are recorded even during parking monitoring.
The front / rear recorded video can be confirmed on the main unit's LCD screen or PC.
■ Two cameras before and after STARVIS
Both front and rear cameras are equipped with Sony CMOS sensors that use the back-illuminated technology "STARVIS".
It is now possible to shoot brightly in dark places such as at night or in tunnels.
Equipped with a function to notify the following vehicle approach!
A vehicle approaching from behind is detected and notified by voice or alarm.
In addition, when approach is detected by setting, it can be automatically recorded as event recording "following vehicle approach recording data".
Equipped with safe driving support function!
Supporting safe and comfortable driving with six functions besides the following vehicle approach notification function
・ Leading vehicle start notification function (detects and notifies the start of the preceding vehicle)
・ Advance vehicle approach notification function (approach to the preceding vehicle will be detected and notified)
・ Front signal notification function (detects and notifies that the front signal is green)
・ Lane departure notification function (detects and reports the departure of the driving lane)
・ Drive support function (detects and notifies sudden acceleration, sudden deceleration, and sudden steering)
・ Vehicle speed alarm function (will notify you if the set vehicle speed is exceeded)
* The safe driving support function does not prevent accidents. Be sure to pay attention to actual traffic conditions when driving.
* Some functions do not work when GPS is not received.
* It may not work well depending on the surrounding conditions, weather, the shape of the preceding car, color and the mounting position of the main body.
■ Parking monitoring function installed!
The parking monitoring function of this product can be used by connecting the optional parking monitoring / direct wiring cord [HDROP-14].
You can also detect impacts while parking and record the front and back images or always record. Of course, the video from the rear camera is also recorded.
Also, since the video is saved in the parking monitoring folder, it can be easily identified when checking the video later.
* Images may be overwritten depending on the settings of the main unit and the capacity of the microSDHC card.
・ Shock quick recording
It starts when an impact is detected and records the video. Since it is stopped during normal times, power consumption can be reduced, and super-long parking monitoring mode operation is possible.
・ One-time parking monitoring mode
Even if the normal parking monitoring function is set to OFF, you can temporarily set the parking monitoring mode.
This is useful when you want to use it only on the go.
・ Parking monitoring mode pass function
When parking in a place where it is easy to detect impact, such as a mechanical multistory parking lot, a place with a lot of vibration, or a windy day,
You can temporarily cancel parking monitoring mode.
・ Time-lapse recording
Long-time recording is now possible by compressing and saving a still image recorded once per second into a short video.
[Normal recording is also time-lapse recording!]
Time-lapse recording is possible not only in parking monitoring mode but also in normal time. You can record for a long time by recording only 1 or 3 images per second.
It is also easy to check the video because it is recorded so that it can be played back for a long time.
■ High-speed recording when the engine is on!
The newly-developed fast start-up system starts recording right after the engine is turned on, so you can't miss the video immediately after the car starts moving.
■ HDR / WDR makes the night video beautiful!
Since it is equipped with HDR and WDR functions, it is resistant to overexposure, underexposure, and backlighting, and records images clearly even in scenes with different brightness.
* Front camera only
■ The image is beautiful with 3.7 million pixels!
Shooting high-quality, clear images not only helps to clarify the cause of accidents and smooth accident handling in the event of a trouble or unexpected accident, but also allows you to enjoy the drive as a recorded video later. You can also.
■ Take a picture brightly even at night
1 / 2.8 inch image sensor installed. By enlarging the image sensor, you can record clearer images than before. In addition, by increasing the size, the brightness at night has also been increased.
■ Compatible with LED traffic lights nationwide!
Records well at different power frequencies in East / West Japan.
■ Never go out! Never miss a moment! Three safe recording functions!
・ Continuous recording: Records images from engine ON to OFF.
* The recording time varies depending on the recording size, frame rate, and image quality settings.
* In the default setting, when the recording limit is reached, the oldest video is automatically overwritten.
-Impact recording: When an impact is detected by the built-in G sensor, it is automatically recorded as impact recording data.
* The file at the time of impact detection and the previous or next file are recorded as impact recording data.
* In the default setting, when the recording limit is reached, the oldest video is automatically overwritten.
-Manual recording: Video can be recorded at any timing by pressing the switch.
* The file at the time the switch is pressed and the previous or next file are recorded as manual recording data.
* In the default setting, when the recording limit is reached, the oldest video is automatically overwritten.
■ Reliable function to protect the shot video!
・ File protection function:
The dedicated file system of this product is a system that has a high probability of restoration with little damage to stored data even if the power is suddenly turned off due to an accident, etc., and protects the data in case of emergency.
・ SD card check function:
Many drive recorders start up normally even if the SD card is damaged, and may not be able to record video.
With this product, the microSDHC card is checked at startup, and if the card is damaged, an error is indicated on the LED display, preventing it from being missed.
・ Emergency recording stop function:
Recording is automatically stopped when a large impact such as an accident occurs. When the product is turned on, such as when a vehicle is moved after an accident, or when repairs are performed at a repair shop, it is possible to prevent unintentional overwriting of important images.
* Shock detection sensitivity can be adjusted to 11 levels including OFF.
■ Useful useful functions and features
・ No need for regular formatting!:
The proprietary file system of patented technology installed in this product is a file system that significantly reduces fragmentation of SD cards due to repeated recording and deletion compared to file systems (FAT, etc.) used on personal computers. It is. As a result, the SD card can be used at a much lower frequency.
・ Noise countermeasures completed!
This product takes noise countermeasures so as not to affect terrestrial digital reception or navigation GPS reception. (Our company standard)
■ Check the viewer software for detailed information!
Recorded data can be checked on a personal computer using the dedicated viewer software that can be downloaded from the Comtech website! G sensor information can be checked as well as video and audio.
You can also convert the recorded data to a video or still image and save it to your computer.
Recorded video inversion function!
The G sensor built into this product automatically detects the top and bottom and inverts the recorded image, so it can be mounted on a dashboard.
Other functions
・ 11 levels of shock sensitivity can be adjusted (including OFF)
・ Voice recording
・ Date and time information recording
・ LED signal compatible
Save this product for later