Welcome to Tsurugi Inc. Online Shop!
We can offer low prices and friendly customer service. All transaction are made via PayPal or Stripe, so we guarantee safe shopping experience with us. Please note, all prices are exclude shipping and handling. We do offer several shipping options, prices are calculated according to the cart weight and each product do have set weight.
For more information please check Shipping & Payment Info also please check Terms & Conditions.
---
Eikosha Air Spencer Apple
ESF021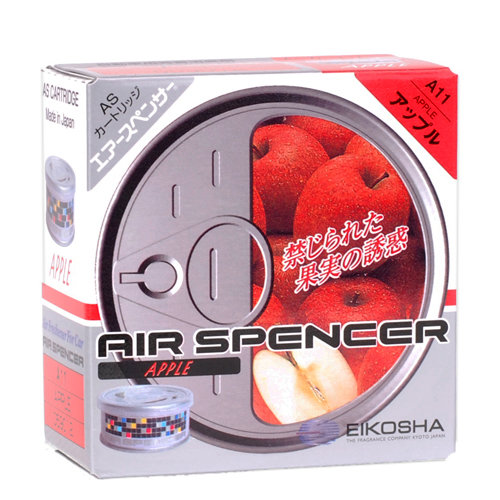 Choose your language: English / Russian
[lang="en"]
Fresh green apple
Description:
Eikosha Air Spencer is an automotive air freshener, available with variety of fragrances. This is a solid type air freshener made of ceramic absorbent powder with a long lasting fragrance that could last up to 4 weeks.
Eikosha Air Spencer may be opened from both sides and can be placed anywhere in the car except driving seat for safety issue.
The Air Spencer air freshener is a compact cartridge can equipped with the enticing scent. Its circular shape makes it perfect to place in your car's cup holder.
100% Genuine Air Spencer product!
How to use:
Open the cartridge either from both/one side
Place the Eikosha Air Spencer anywhere of your choice inside your car.
[/lang]
[lang="ru"]
Меловой ароматизатор EIKOSHA серии AIR SPENCER Apple (ЯБЛОКО)
Описание аромата:
Сладкий аромат спелых яблок.
Бренд Eikosha выделяется среди других производителей парфюмированной автопродукции своей непревзойденной линейкой ароматов, которые легко можно спутать с уникальными запахами именитых парфюмерных брендов мира, поэтому ароматизаторы Eikosha на рынке автомобильной парфюмерии не имеют аналогов.
Ароматизаторы Eikosha – это не просто освежители воздуха, это настоящие автомобильные парфюмы.
Благодаря уникальной технологии твердого наполнителя, срок активного распространения аромата от 3 до 12 месяцев. Важное преимущество ароматизатора – меловой наполнитель, который не течет и не рассыпается. Продуманная двухсторонняя банка-"консерва" удвоит срок эксплуатации вашего ароматизатора. Нужно просто перевернуть ее обратной стороной и вновь наслаждаться свежестью любимого аромата.
[/lang]
Product Region:Japan
Contents:40g
Handling Time:1 day