Welcome to Tsurugi Inc. Online Shop!
We can offer low prices and friendly customer service. All transaction are made via PayPal or Stripe, so we guarantee safe shopping experience with us. Please note, all prices are exclude shipping and handling. We do offer several shipping options, prices are calculated according to the cart weight and each product do have set weight.
For more information please check Shipping & Payment Info also please check Terms & Conditions.
---
Soft 99 SMOOTH EGG Clay Bar
SEC091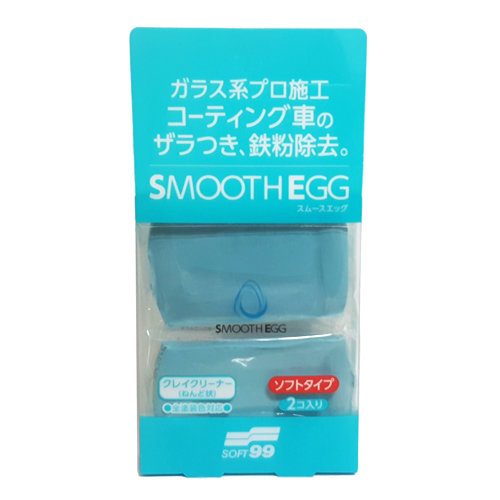 Choose your language: English / Russian
[lang="en"]
SMOOTH EGG Clay Bar gently removes iron powders and deposits from a glass coating. The body of vehicle gets smoother in use conjunction with SMOOTH EGG Liquid.
Directions to use
1. Wash the car, removing sand and dust from the body of the vehicle.
2. Knead the clay bar by hand until it's soft and flat.
3. Gently slide the clay bar over the wet surface. * Be sure to knead the bar regularly to expose fresh clay.
[/lang]
[lang="ru"]
Абразивная глина для очистки кузова
Отлично очищает от трудноудаляемых загрязнений: вбитая в покрытие на основе жидкого стекла металлическая пыль, останки насекомых, напыл краски, гудрон и другие загрязнения. Не повреждает покрытие.
Создана для кузова, покрытого жидким стеклом Отлично очищает от въевшихся загрязнений
Подходит для автомобилей всех цветов
Способ применения
Помойте машину.
Тщательно разомните глину в руках до полного размягчения.
Плавно проведите брикетом по поверхности, обязательно смачивая поверхность водой.
Если поверхность брикета загрязнилась, сверните его загрязненной поверхностью вовнутрь и используйте чистую сторону.
[/lang]
Product Region:Japan
Contents:2psc
Handling Time:1 day