Welcome to Tsurugi Inc. Online Shop!
Place where you can buy any product manufactured and made in Japan!
We can offer low prices and friendly customer service. All transactions are made via PayPal or Stripe, so we guarantee safe shopping experience. Please note, all prices are excluding shipping and handling. We do offer several shipping options, prices are calculated according to the cart weight and each product do have set weight.
If you cannot locate product and you are sure it's made in Japan – simply just leave us a note and we will do our best to sort it out!
For more information please check Shipping & Payment Info also please check Terms & Conditions.
---
Soft99 Aluminum Mesh Sheet
SCP143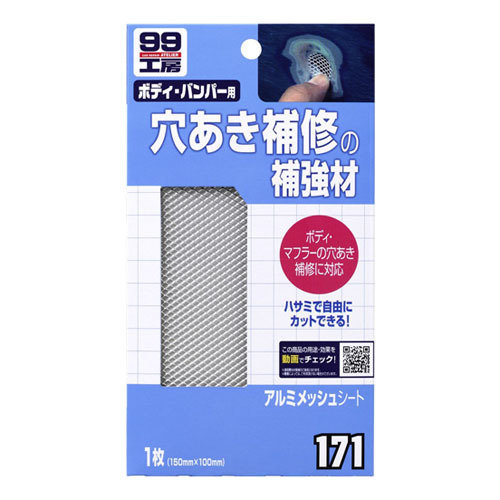 The Aluminum Mesh Sheet allows the putty to get into its mesh to adhere firmly, which then achieves the high durability repair withstanding considerable shock or vibration. You can cut it as you choose, and it allows you to use it anywhere like aero parts or the part with holes.
Directions to use
* Remove oil, rust or paint from the area being repaired with Atelier 99 Waterproof Abrasive Paper and Atelier 99 Silicone Off (both sold separately).
1. Cut the sheet as needed.
2. Put the cut sheet over the hole and apply the putty around sheet.
3. Apply the putty on the whole area.
* After it hardens, polish it and finish up with Atelier 99 Body paint.
Product Region:Japan
Contents:1sheet (150×100mm)
Handling Time:5 days