Welcome to Tsurugi Inc. Online Shop!
We can offer low prices and friendly customer service. All transaction are made via PayPal or Stripe, so we guarantee safe shopping experience with us. Please note, all prices are exclude shipping and handling. We do offer several shipping options, prices are calculated according to the cart weight and each product do have set weight.
For more information please check Shipping & Payment Info also please check Terms & Conditions.
---
Soft99 BLACK PARTS ONE - Unpainted Resin Parts Refresh Kit-
SEA085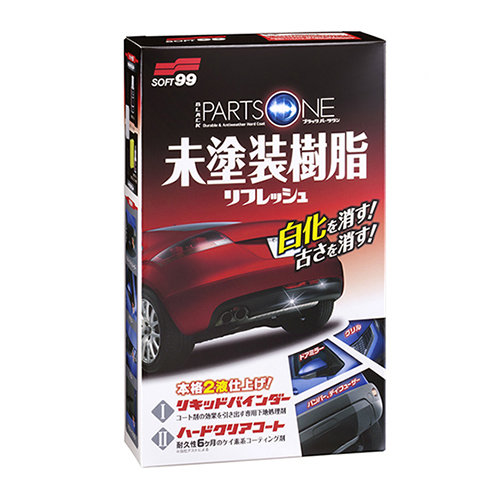 Choose your language: English | Russian
[lang="en"]
This product is for the unpainted resin parts such as a part of a bumper or around wipers. 2 kinds of liquid are included in this package; 'Liquid Binder', which removes dirt marks from the surface of resin parts, and 'Hard Clear Coat', which creates Silicon-based thick and hard film coating. This coating is hard to soften and get dirty, therefore, it can keep a good condition of the surface for a long time.
Directions to use
* Remove any stubborn dirt marks with water and wipe off any water drops remaining on the surface in advance.
1. Shake the bottle of 'Liquid Binder' well. Put a small amount of the liquid on the included sheet and spread it evenly. Afterward, wipe it off with the clean side of the sheet.
2. Detach a piece from sponges, put the liquid of 'Hard Clear Coat' on the black side of the sponge, and then apply it evenly.
* Do not touch the car for 24 hour after applying.
* If the liquid gets on the other parts, wipe it off immediately.
[/lang]
[lang="ru"]
Покрытие для непрозрачных/неокрашенных пластиковых поверхностей Soft99 BLACK PARTS ONE - Unpainted Resin Parts Refresh Kit-
Предназначено для эффективного ухода за деталями из неокрашенного пластика и резины. Преображает пластиковые детали, защищает от воздействия окружающей среды, придает блеск и обновленный вид.
Отлично подойдет как для новых автомобилей, так и автомобилей с пробегом
В комплект входят 2 средства: очиститель и покрытие на основе жидкого стекла Н-7.
Очиститель быстро справляется с загрязнениями. Покрытие образует тонкий слой, который защищает пластик от воздействия внешних факторов и придает блеск.
Продолжительность эффекта - до 1 года
Способ применения
Очистите пластик водой и салфеткой от сильной грязи и пыли.
Хорошо встряхните бутылку с очистителем (40 мл), нанесите небольшое количество на салфетку, которая идет в комплекте и равномерно распределите средство по поверхности. После разотрите чистой стороной салфетки.
Возьмите одну специальную губку, нанесите на темную сторону покрытие для пластика (8 мл) и нанесите на неокрашенную поверхность.
В течение 6 часов избегайте попадания влаги на обработанные детали, в течение 24 часов не подвергайте обработанные детали физическому воздействую, чтобы состав полностью затвердел
Если очиститель попал на другие детали, осторожно протрите их салфеткой.
[/lang]
Product Region:Japan
Contents:Base Cleaner : 40ml / Coating Liquid : 8ml / Special sheet × 4 / Special sponge × 4
Handling Time:1 day