Soft99 Stone Chip Repair Kit
SCS166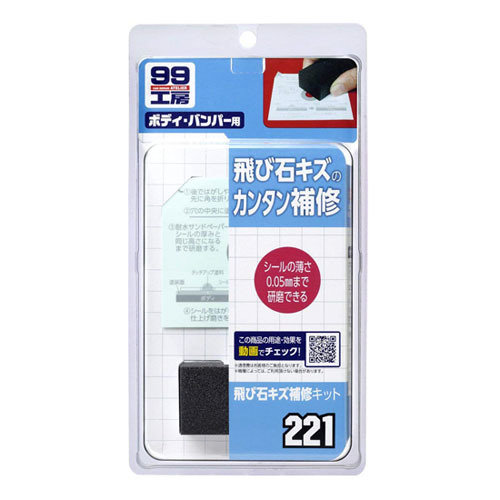 This repair kit is suitable for repairing stone chip scratch by Touch Up Paint. Easy and quick application process with water proof sanding paper. Adopted low viscosity hard film masking sticker doesn't remain glue mark.
Directions to use
1. Degrease paint surface with attached "Silicone Off Sheet", and fill the chipping with Touch UP Paint, and leave it for drying.
* Recommended to repeat painting process, so that the painted point will be elevated.
2. Make sure that the paint is completely dried, then put the attached "Masking seal", with its central hole is placed on the painted spot.
* Be careful not to make fold on seal.
3. Put a sandpaper around "Polishing pad", and wet it with water and abrade the elevated paint, until it will be same height as masking seal.
* Make sure not to abrade outside of masking seal.
* Don't abrade too strongly.
4. Remove masking seal, and polish with compound to eliminate sanding mark for beautiful finish.
* Recommended to use "SOFT99Body Compound Super Fine Grad" or "SOFT99 Liquid Compound".
Product Region:Japan
Contents:Masking seal X 3 sheets, Silicone Remover X 3 sheets, Water proof sanding paper (800grit) X 3 sheets, Polishing Pad X 1 pc
Handling Time:5 days