Welcome to Tsurugi Inc. Online Shop!
We can offer low prices and friendly customer service. All transaction are made via PayPal or Stripe, so we guarantee safe shopping experience with us. Please note, all prices are exclude shipping and handling. We do offer several shipping options, prices are calculated according to the cart weight and each product do have set weight.
For more information please check Shipping & Payment Info also please check Terms & Conditions.
---
Soft99 Body Compound Trial Set
SCC096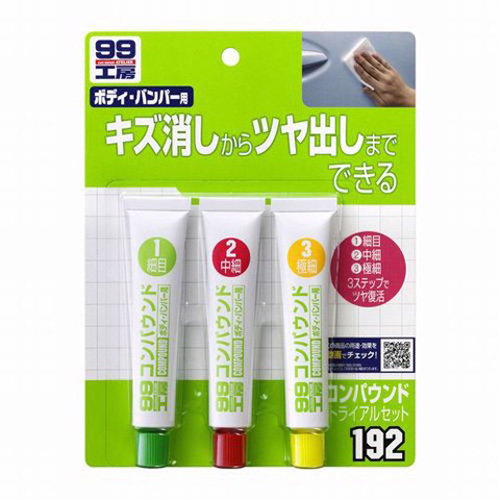 ---
Not only does Body Compound Trial Set include everything you need to repair minor scratches or groves, but it also helps even the beginners use those tools in the right order and way.
Directions to use

1. Use water to remove dirt and dust in advance.
2. Apply a small amount of the liquid to a dry soft cloth and start polishing desired area.
3. Wipe it off with a dry cloth.
Product Region:Japan
Contents:25g×3
Handling Time:5 days