Welcome to Tsurugi Inc. Online Shop!
Place where you can buy any product manufactured and made in Japan!
We can offer low prices and friendly customer service. All transactions are made via PayPal or Stripe, so we guarantee safe shopping experience. Please note, all prices are excluding shipping and handling. We do offer several shipping options, prices are calculated according to the cart weight and each product do have set weight.
If you cannot locate product and you are sure it's made in Japan – simply just leave us a note and we will do our best to sort it out!
For more information please check Shipping & Payment Info also please check Terms & Conditions.
Soft99 Bugs & Bird Droppings Removal Shampoo
SES129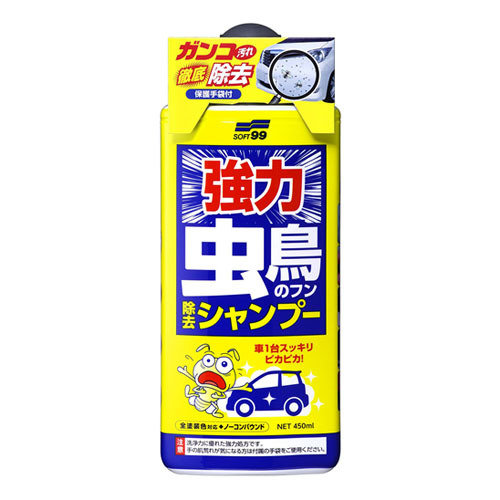 This exclusive shampoo strongly removes dead bugs and bird dropping by chemical power.
The specially formulated liquid, the special surfactant that works on bug protein and the orange oil that works on solid lipid, can thoroughly clean off dead bugs adhering to the car body.
Included simple protective gloves for those who care skin protection. Compatible with any color of vehicle.
Directions to use
* Rinse dust or sand with water in advance.
1. Apply the proper amount of the liquid to the soaked sponge. Begin to wash the car, making enough lather. When diluting the liquid, add 1L of water to 2 cups of the liquid. (20ml)
* The water repellent effect and shine will be reduced.
2. Put the lather on the dirty area, let it sit for a couple minutes and rub softly.
* The water repellent effect and shine will be reduced.
3. After washing, rinse thoroughly until all soap are gone.
4. Dry with the towel or absorbent cloth.
* If the dirt still remains, wash the car again with more liquid.
Product Region:Japan
Contents:450ml Protective Glove
Handling Time:5 days