Welcome to Tsurugi Inc. Online Shop!
We can offer low prices and friendly customer service. All transaction are made via PayPal or Stripe, so we guarantee safe shopping experience with us. Please note, all prices are exclude shipping and handling. We do offer several shipping options, prices are calculated according to the cart weight and each product do have set weight.
For more information please check Shipping & Payment Info also please check Terms & Conditions.
---
Soft99 Nano Hard Plastic Coat
SEA070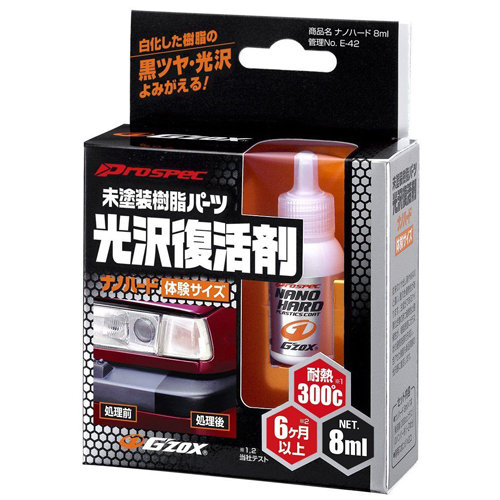 Choose your language: English / Russian
[lang="en"]
By just applying on the whitening or color fading resin parts, it creates transparent glassy "Nano crystal coating" and ultimate shine lasts more than 6 months. You can use it on heated parts such as car or motorcycle's engine cover and silencer. Moreover, it is compatible with unpainted resin parts on car, motorcycle, home electric appliances and even office chair!
Directions to use
1. Remove dirt or oil completely in advance. If you use water to do, dry until no water drops remains.
2. Take the liquid on the black side of included sponge and spread it evenly.
* Do not use the sponge which you already used.
3. Dry for 5 min, wipe off evenly with a dry clean towel.
* Do not touch or wet the car for 24 hours after applying. The coating takes 3-4 days to harden completely.
[/lang]
[lang="ru"]
Покрытие для непрозрачных пластиковых поверхностей
Придаёт яркость деталям из непрозрачного пластика: бампер, зеркала, молдинги, крышка двигателя и т. д. Восстанавливает цвет тусклого, блёклого, изношенного пластика. Выдерживает температуру до 300 °C. Подходит для любых деталей из непрозрачного пластика.
Придаёт яркость деталям из непрозрачного пластика
Защищает обработанную поверхность
Придаёт водоотталкивающие свойства
Выдерживает температуру более 300 °C
Продолжительность эффекта – до 6 месяцев
Способ применения
Очистите поверхность от пыли и загрязнения, высушите ее.
Встряхните флакон и с помощью губки нанесите средство на поверхность.
Через 1 мин., сотрите с поверхности разводы.
После нанесения средства не трите поверхность жесткой губкой.
Для высыхания обработанной поверхности нужно 24 ч, для полного затвердения пленки – 3-4 дня.
[/lang]
---
Product Region:Japan
Contents:8ml
Handling Time:1 day