Welcome to Tsurugi Inc. Online Shop!
Place where you can buy any product manufactured and made in Japan!
We can offer low prices and friendly customer service. All transactions are made via PayPal or Stripe, so we guarantee safe shopping experience. Please note, all prices are excluding shipping and handling. We do offer several shipping options, prices are calculated according to the cart weight and each product do have set weight.
If you cannot locate product and you are sure it's made in Japan – simply just leave us a note and we will do our best to sort it out!
For more information please check Shipping & Payment Info also please check Terms & Conditions.
---
Soft99 Sanding Cube
SCS167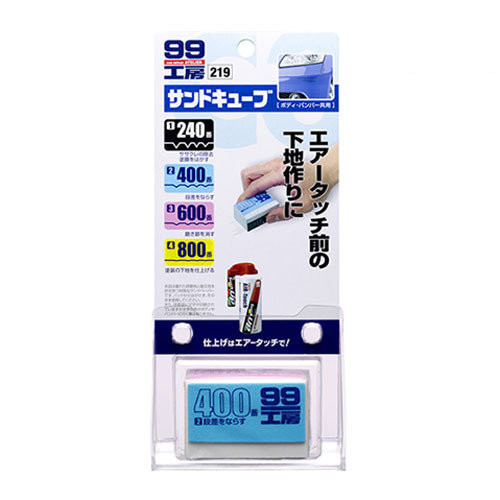 ---
By just using this cube in the right order, the surface preparations will be done, because the 4 different sized grids are arranged on each of the 4 aspects.
Also, instructions and grid sizes are printed on each aspect, which allows beginners to use it with ease.
Furthermore, you can wipe off water drops with it.
Directions to use
* Apply onto the surface, wetting the area that will be polished.
* Change the aspect as needed, following the instructions.