Soft99 Chrome Cleaner
SCG174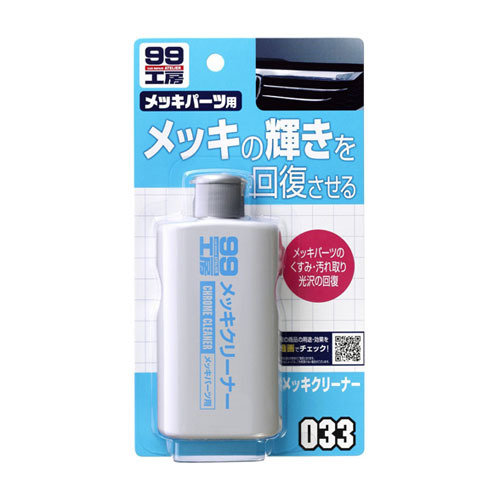 Choose your language: English | Russian
[lang="en"]
It removes dirt or rust on chrome parts as well as plastic chrome parts and restores beautiful shininess.
Directions to use
1. Put a small amount of the liquid on a soft, dry, clean cloth and then rub the dirty area.
2. Wipe it off to finish up.
[/lang]
[lang="ru"]
Очиститель для хрома Soft99 Chrome Cleane
Очиститель легко и быстро удалит грязь и восстановит блеск любых хромированных деталей, таких как: решётка радиатора, зеркала, колёса, клюшки для гольфа, осветительные приборы и т.д.
Способ применения:
Помойте детали.
Встряхните флакон.
Нанесите необходимое количество очистителя на чистую, сухую и мягкую ткань, протрите ею помутневшие и загрязнённые места.
Не трите поверхность с излишней силой.
Особенно будьте внимательны к позолоте и покрытию пластиковых деталей, так как гальваническая плёнка в этих случаях тонкая.
После полировки протрите сухой тканью для придания окончательного блеска.
Если поверхность не очистилась, повторите процедуру.
[/lang]
Product Region:Japan
Contents:125ml
Handling Time:5 days