Welcome to Tsurugi Inc. Online Shop!
Place where you can buy any product manufactured and made in Japan!
We can offer low prices and friendly customer service. All transactions are made via PayPal or Stripe, so we guarantee safe shopping experience. Please note, all prices are excluding shipping and handling. We do offer several shipping options, prices are calculated according to the cart weight and each product do have set weight.
If you cannot locate product and you are sure it's made in Japan – simply just leave us a note and we will do our best to sort it out!
For more information please check Shipping & Payment Info also please check Terms & Conditions.
---
Soft99 Chrome Cleaner
SCG174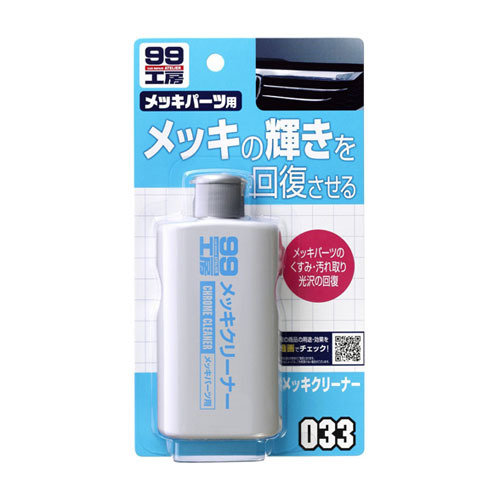 Choose your language: English | Russian
[lang="en"]
It removes dirt or rust on chrome parts as well as plastic chrome parts and restores beautiful shininess.
Directions to use
1. Put a small amount of the liquid on a soft, dry, clean cloth and then rub the dirty area.
2. Wipe it off to finish up.
[/lang]
[lang="ru"]
Очиститель для хрома Soft99 Chrome Cleane
Очиститель легко и быстро удалит грязь и восстановит блеск любых хромированных деталей, таких как: решётка радиатора, зеркала, колёса, клюшки для гольфа, осветительные приборы и т.д.
Способ применения:
Помойте детали.
Встряхните флакон.
Нанесите необходимое количество очистителя на чистую, сухую и мягкую ткань, протрите ею помутневшие и загрязнённые места.
Не трите поверхность с излишней силой.
Особенно будьте внимательны к позолоте и покрытию пластиковых деталей, так как гальваническая плёнка в этих случаях тонкая.
После полировки протрите сухой тканью для придания окончательного блеска.
Если поверхность не очистилась, повторите процедуру.
[/lang]
Product Region:Japan
Contents:125ml
Handling Time:5 days