Welcome to Tsurugi Inc. Online Shop!
We can offer low prices and friendly customer service. All transaction are made via PayPal or Stripe, so we guarantee safe shopping experience with us. Please note, all prices are exclude shipping and handling. We do offer several shipping options, prices are calculated according to the cart weight and each product do have set weight.
For more information please check Shipping & Payment Info also please check Terms & Conditions.
---
Soft99 Cleansing Coat Tire Shine
STL031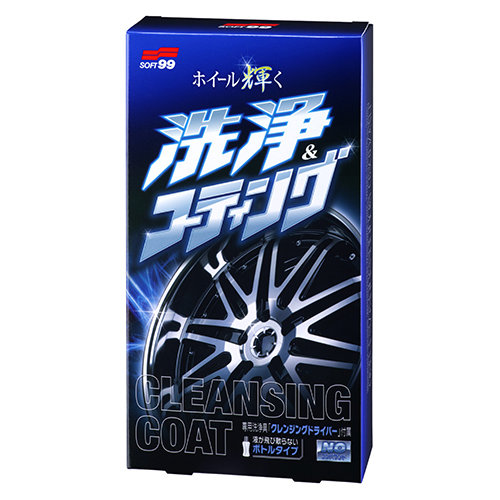 Choose your language: English | Russian
[lang="en"]
Cleansing Coat is a high-spec wheel cleaner and coating for best results. The weak alkaline cleaning ingredient floats difficult water stains and grease and removes them, adding a water repellent coating on the surface to prevent dirt from adhering. The newly developed brush, Cleansing Driver, has a special urethane form, flat-shaped inner frame, microfiber surface and newly designed grip. It's a no-compound type liquid and the bottle type container prevents the liquid from splattering to the inside of wheels.
Directions to use
* Remove dirt and sand with water in advance.
1. Shake the bottle well and apply Cleansing Coat to the included brush.
2. Rub on the wheel and remove dirt. Rub firmly on sticky dirt.
3. Rinse thoroughly and dry with a clean soft towel.
* Microfiber may shift out of position if excessive force is applied to the brush while working. In that case, put it back in place before using again.
* Drive at the low speed after use to make sure the brake works properly.
* The coating result will be improved by applying repeatedly.
[/lang]
[lang="ru"]
Покрытие для дисков Soft99 Wheel Cleansing Coat
Покрытие для дисков Wheel Cleansing Coat – очищающее средство высокого качества, предназначенное для высокоэффективной очистки и защиты автомобильных дисков.
Основной данного очистителя является слабый щелочной компонент, который позволяет с легкостью удалять трудновыводимые пятна и жир, образуя при этом специальное водоотталкивающее покрытие на поверхности дисков и придавая им ослепительный блеск.
Данное средство, в отличии от своих аналогов, выполнено не в виде спрэя или аэрозоля, а представляет собой удобную бутылку-контейнер, которая предотвращает разбрызгивание жидкости при использовании.
Для удобства обработки колесных дисков в комплекте поставляется специальная щетка.
Применение:
Предварительно очистить диски от грязи и песка;
Хорошо встряхнуть баллон с очистителем, нанести жидкость на прилагаемую щетку;
Интенсивно протереть щеткой поверхность дисков;
Вытереть авто диски сухой ветошью;
В случае сильного загрязнения, повторить обработку еще раз.
[/lang]
Product Region:Japan
Contents:250ml
Handling Time:1 day