Welcome to Tsurugi Inc. Online Shop!
We can offer low prices and friendly customer service. All transaction are made via PayPal or Stripe, so we guarantee safe shopping experience with us. Please note, all prices are exclude shipping and handling. We do offer several shipping options, prices are calculated according to the cart weight and each product do have set weight.
For more information please check Shipping & Payment Info also please check Terms & Conditions.
---
Soft99 Smooth EGG Liquid
SEA065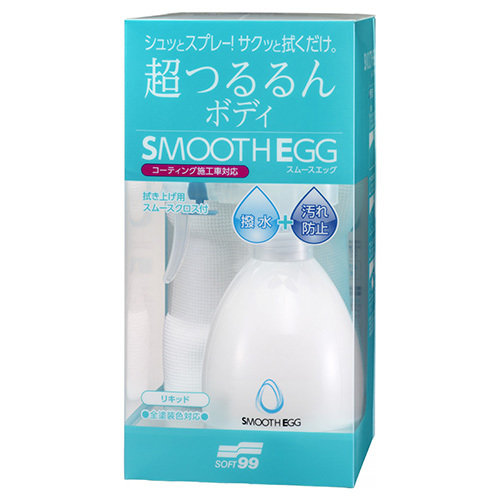 Choose your language: English | Russian
[lang="en"]
Newly formulated "Repair Coat" repairs a damaged professional glass coating, adding water repellent effect. Just spray on the wet body of the vehicle after car wash, wipe down the surface and you're done! You will get a water repellent coating which is as smooth as a peeled boiled egg.
It can be used on a vehicle without a professional coating and provide a smooth surface as well.
Feel free to use on wheels, windows, headlights, tail lamps, plastic parts, vehicle interior, etc. Compatible with any color of vehicle.
Directions to use
1. Remove dust and dirt with water. For best results, use 'SMOOTH EGG Shampoo for Repair'.
2. Spray on the wet body of the vehicle.
* Can be used on a dry surface.
* Apply roughly one spray per 9.1 square ft. (30cm2).
3. Fold the included cloth into quarters and wipe down the body of vehicle, wringing the cloth to dry as needed.
[/lang]
[lang="ru"]
Покрытие для автомобилей, покрытых жидким стеклом Soft99 Smooth EGG Liquid
Состав восстанавливает гидрофобный эффект на автомобилях, покрытых жидким стеклом. Защищает покрытие от повреждений, продлевает срок его службы.
Восстанавливает гидрофобный эффект
Используется как самостоятельное гидрофобное покрытие
Защищает и продлевает срок службы покрытия на основе жидкого стекла
Подходит для обработки деталей из неокрашенного пластика
[/lang]
Product Region:Japan
Contents:250ml
Handling Time:5 days