Welcome to Tsurugi Inc. Online Shop!
We can offer low prices and friendly customer service. All transaction are made via PayPal or Stripe, so we guarantee safe shopping experience with us. Please note, all prices are exclude shipping and handling. We do offer several shipping options, prices are calculated according to the cart weight and each product do have set weight.
For more information please check Shipping & Payment Info also please check Terms & Conditions.
---
Soft99 Glaco Mist Type
SGA010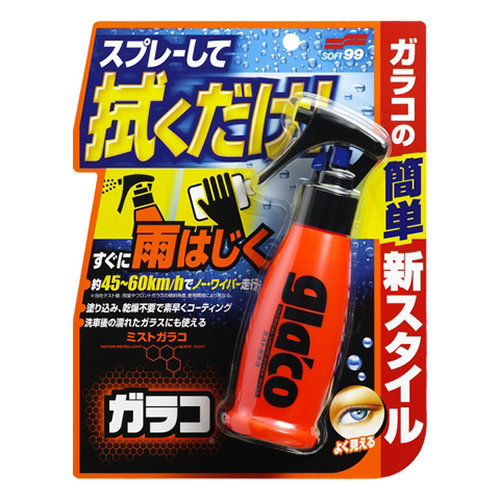 Choose your language: English | Russian
[lang="en"]
New style Glaco gives extremely effective water repellence by very simple work, compared with the existing processes! There is NO need to apply nor dry. By just spraying on a windshield, an amazing water repellence appears on the surface, and it is almost the same as a roll-on type. You can use on the wet windshield after a carwash. Can be used for 10 mid-sized vehicles per one bottle.
Directions to use
1. Remove dirt and dust with water from the windshield.
2. Turn the stopper to "OPEN" and spray on the windshield.
3. Use a moist towel to wipe down when spraying on a dry surface. Use a dry clean towel to wipe down when spraying on a wet surface.
[/lang]
[lang="ru"]
Водоотталкивающее покрытие для стёкол Soft99 Glaco Mist Type
Покрытие Glaco с новой формулой и в новой упаковке. Бутылочка с распылителем обеспечивает быстрое и легкое нанесение. Может быть использовано на мокром стекле. Не требует располировки.
Придаёт сильное водоотталкивающее свойство
Действует при скорости более 45 км/ч
Препятствует загрязнению
Наносится без предварительной чистки поверхности стекла
Продолжительность эффекта - до 1 месяца при нанесении в дождь.
Способ применения
Перед применением смойте со стекла грязь и пыль.
Откройте стопор, повернув его в положение «OPEN», и распылите средство на лобовое стекло.
Если стекло сухое, протрите его влажным, но хорошо отжатым полотенцем.
Если стекло мокрое, протрите его чистым и сухим полотенцем.
При использовании во время дождя обильно распылите это средство на лобовое стекло с работающими дворниками.
[/lang]
---
Product Region:Japan
Contents:100ml
Handling Time:1 day