Welcome to Tsurugi Inc. Online Shop!
We can offer low prices and friendly customer service. All transaction are made via PayPal or Stripe, so we guarantee safe shopping experience with us. Please note, all prices are exclude shipping and handling. We do offer several shipping options, prices are calculated according to the cart weight and each product do have set weight.
For more information please check Shipping & Payment Info also please check Terms & Conditions.
---
Soft99 Light One, Restoration Kit
SEC034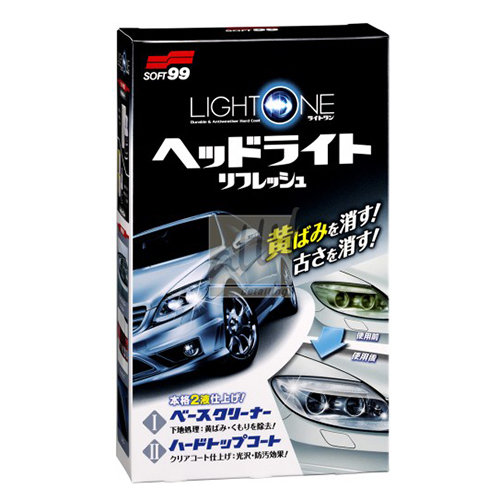 Choose your language: English | Russian
[lang="en"]
This is a special cleaner for the parts made of transparent resin such as headlights, winkers or tail lamps. 2 kinds of liquid are included; "Base Cleaner", which cleans foggy or yellowed headlights or so on, and "Hard Top Coat", which prevents deterioration by UV rays or dirt as the same time as creates gloss. High transparency lasts for a long period and the entire process takes only 2 steps; 'polish' and 'spread'. A special sponge and a cloth are included.
Directions to use
* Remove dirt in advance.
1. Shake the bottle of "Base Cleaner" and put the liquid on the included cloth. Make sure the dirt on the parts are fading away when polishing.
2. Wipe it off with the clean side of the cloth
3. Shake the bottle of "Hard Top Coat", put the liquid on the included sponge and then spread it evenly.
4. Spread it evenly again to fade unevenness with the opposite side of the sponge after drying for about 1 minute.
* The coating film takes 3-4 days to harden completely. Do not touch or wet the car for 24 hours after applying.
[/lang]
[lang="ru"]
Покрытие для фар Soft99 Light One, Restoration Kit
Средство разработано специально для деталей, изготовленных из прозрачного пластика. В состав входят 2 компонента: абразивный полироль-очиститель и покрытие на основе жидкого стекла Н-7. Очиститель с помощью специального абразива для пластика удаляет царапины и жёлтый слой с фар, а покрытие защищает обработанную поверхность и придаёт водоотталкивающие свойства.
Удаляет царапины и повреждённый жёлтый слой пластика
Защищает обработанную поверхность
Придаёт водоотталкивающие свойства
Подходит для прозрачного пластика (в т.ч. для приборной панели, спидометра)
Продолжительность эффекта – до 1 года
Способ применения
Помойте фары и вытрите насухо
Встряхните емкость с «основным очистителем» (50 мл.), нанесите небольшое количество средства на специальную ткань и обработайте поверхность, проверяя, удаляются ли желтизна и налет. В этом средстве содержится абразивный материал, поэтому не трите слишком сильно.
Затем аккуратно протрите обработанный участок обратной стороной специальной ткани.
Встряхните емкость с «твердым покрытием» (8 мл.), нанесите средство на тканевую поверхность специальной губки и тонким слоем нанесите его на нужный участок.
Специальная губка рассчитана на однократное применение.
Подождите 1 минуту, пока жидкость подсохнет, и тканевой поверхностью другой стороны специальной губки легко проведите по этому же участку так, чтобы на нем не осталось заметных следов.
В течение 24 часов после обработки не касайтесь этой поверхности и не мочите ее.
В течение 3-4 дней покрытие полностью затвердеет.
[/lang]
Product Region:Japan
Contents:Base Cleaner: 50ml, Coating Liquid: 8ml
Handling Time:1 day