Welcome to Tsurugi Inc. Online Shop!
We can offer low prices and friendly customer service. All transaction are made via PayPal or Stripe, so we guarantee safe shopping experience with us. Please note, all prices are exclude shipping and handling. We do offer several shipping options, prices are calculated according to the cart weight and each product do have set weight.
For more information please check Shipping & Payment Info also please check Terms & Conditions.
---
Soft99 Water-Based Tire Coating "Pure Shine"
STT026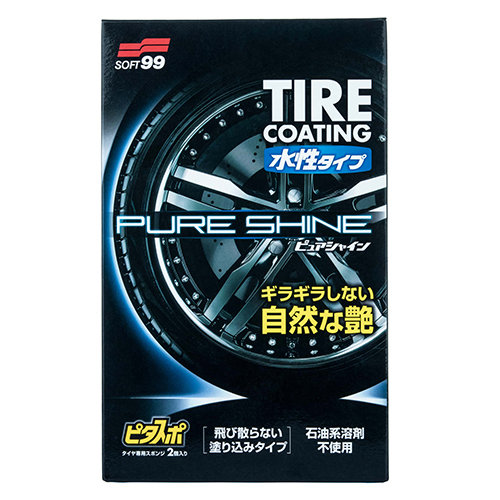 Choose your language: English | Russian
[lang="en"]
PURE SHINE is a water-based tire coating without petroleum solvents. It creates a chic and natural gloss, making your car look more elegant. Spreading emulsion type liquid, which spreads well, with the included sponge never allows it to be splattered to car body or wheels. Two special sponges "Pitasupo", which can fit between wheels and tires, are also included.
Directions to use:
* Be sure to clean any sticky or unwanted residue on tires in advance.
* Do not apply it onto wet tires.
1. Shake the bottle well and put a moderate amount of the liquid on the included sponge.
2. Be careful not to get the liquid on the wheels, and be sure to spread the liquid on the whole side of surface of the tires.
3. The entire process is completed when the liquid dries for 5-10 minutes after application.
[/lang]
[lang="ru"]
Покрытие для шин для придания блеска Soft99 Water-Based Tire Coating "Pure Shine"
Средство придает шинам изысканный натуральный блеск, который позволяет вашему автомобилю выглядеть элегантно. Покрытие имеет водную основу, не содержит нефтяные растворители. Специальная губка, входящая в комплект, позволит легко и быстро нанести средство на шины, не попадая на кузов и диски автомобиля
Продолжительность эффекта – 1 месяц.
Способ применения
Убедитесь, что шины чистые и сухие.
Хорошо встряхните бутылку, нанесите средство на специальную губку, которая идет в комплекте.
Равномерно нанесите средство на шины. Убедитесь, что средство нанесено на всю поверхность.
Дайте составу высохнуть в течении 5-10 минут.
* Не наносить на диски и протекторы шин.
[/lang]
Product Region:Japan
Contents:100ml
Handling Time:1 day