Soft99 Light hardened Putty
SCP137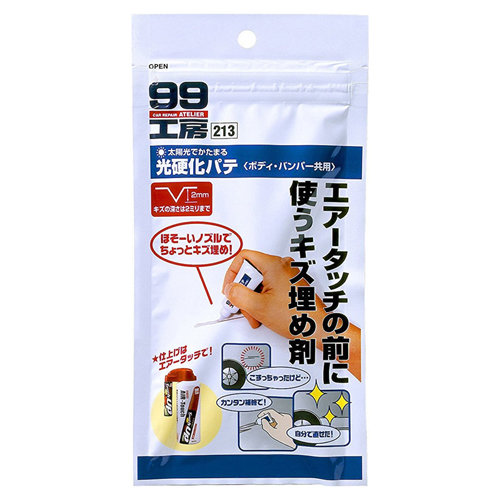 ---
The scratch filling agent hardens as it reacts to sunlight. Minor scratches with a depth up to 2mm can be filled quickly. It adheres firmly to steel plates, rust-resistance steel plates, aluminum, PP, FRP and so on. This helps you repair not only the car's body, but also minor scratches on the resin bumper. We recommend you finish with Atelier 99 Air Touch.
Directions to use

1. Remove dust or dirt in advance. We recommend you polish lightly with the sandpaper to adhere the putty firmly to the area.
2. Apply the putty while tracing the scratch with it. Flatten out the putty with the included spatula while pressing it into the scratch. After you fill in the scratch, expose it to sunlight and make it harden.
3. Polish the surface with the sandpaper to make it smooth. Afterward, finish up with Atelier 99 Air Touch and so on.
Product Region:Japan
Contents:12g
Handling Time:5 days