Welcome to Tsurugi Inc. Online Shop!
We can offer low prices and friendly customer service. All transaction are made via PayPal or Stripe, so we guarantee safe shopping experience with us. Please note, all prices are exclude shipping and handling. We do offer several shipping options, prices are calculated according to the cart weight and each product do have set weight.
For more information please check Shipping & Payment Info also please check Terms & Conditions.
---
Soft99 Liquid Compound #3000 Set
SCC101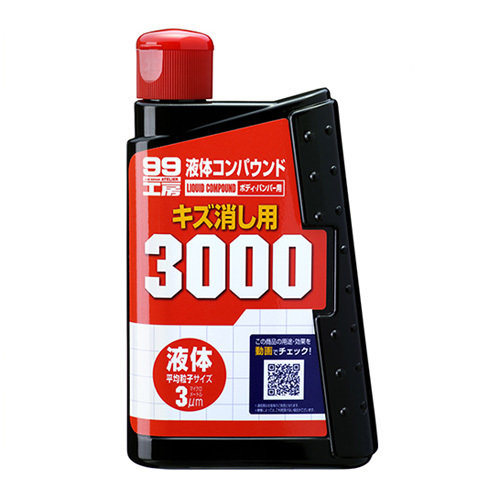 Choose your language: English | Russian
[lang="en"]
Liquid Compound #3000 Set includes a newly developed specialty sponge that not only creates a more beautiful result, but also polishes more easily compared to using a rag.
Directions to use
1. Use water to remove dirt and dust in advance.
2. Shake the bottle well with the cap on, apply a small amount of the liquid to the black side of the included sponge and start polishing desired area. Can be used with a buffer.
3. Wipe it off with a dry cloth.
[/lang]
[lang="ru"]
Жидкий абразивный полироль Soft99 Liquid Compound #3000 Set
Liquid Compound #3000 – полироль с абразивом для чистки и обработки поверхностей. Сферические частицы диаметром 3 микрона удаляют следы от наждачной бумаги и неровности.
Очищает и обрабатывает поверхность
Удаляет следы от наждачной бумаги
Способ применения
Сложите ткань в виде подушечки, налейте жидкость и чистите, прилагая силу, в определенном направлении.
Обрабатывайте поверхность небольшими участками, пока не станет гладкой.
Вам будет легко обработать поверхность специальной губкой для нанесения полироли (продается отдельно). Можно воспользоваться и полировальным станком.
Будьте осторожны при его использовании, так как он очищает очень быстро.
После обработки протрите поверхность тканью.
[/lang]
Product Region:Japan
Contents:300ml
Handling Time:5 days