Welcome to Tsurugi Inc. Online Shop!
We can offer low prices and friendly customer service. All transaction are made via PayPal or Stripe, so we guarantee safe shopping experience with us. Please note, all prices are exclude shipping and handling. We do offer several shipping options, prices are calculated according to the cart weight and each product do have set weight.
For more information please check Shipping & Payment Info also please check Terms & Conditions.
---
Soft99 New Wheel Tonic 400
STL087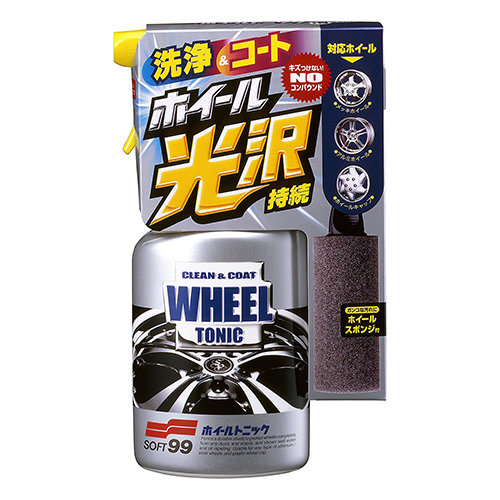 Choose your language: English | Russian
[lang="en"]
The superior cleaning components can remove residue like brake dust. Also, it creates a shiny, water repellent coating which enhances the texture of the wheel by not allowing any dirt to stick to the surface. This results in a longer lasting beautiful shine. You can use it on a wide range of materials. It does not damage the sensitive material of the aluminum wheel because abrasive compounds are not included. A convenient sponge is included.
Directions to use
1. Use water to remove dust or dirt from the wheels.
2. Shake the bottle well, turn the nozzle to <SOAP> and spray entire wheels.
3. Wipe with sponge to absorb dirt.
4. Rinse well with water so as not to leave any cleanser or dirt.
5. Wipe off remaining water.
6. Check brakes at a low speed to make sure braking is functioning properly and then start driving.
[/lang]
[lang="ru"]
Очиститель дисков Soft99 New Wheel Tonic 400
Превосходно удаляет грязь и ржавчину с колёсных дисков, не повреждая их. Придает яркий и устойчивый блеск. Образует надежную защиту от вредных факторов: осадки, дорожная соль, «тормозная пыль», смола, гудрон и т. п. Обладает антикоррозийными свойствами. Применяется для обработки алюминия, хрома, стали и многих других поверхностей.
Удаляет грязь и ржавчину с колёсных дисков
Придаёт яркий и устойчивый блеск
Создаёт надёжную защиту от вредных факторов
Обладает антикоррозийными свойствами
Безопасен для всех видов сплавов
Способ применения
С помощью воды смойте пыль с дисков колес.
Хорошо взболтайте.
Распыляйте на расстоянии 15см от диска колеса.
Через 1-2 минуты с помощью губки очистите грязь.
Смойте большим количеством воды.
Особенно хорошо промойте места, где легко скапливается вода.
Будьте внимательны, чтобы жидкость не осталась в каком-либо месте на диске.
Вытрите диск чистым полотенцем.
После этого на низкой скорости проверьте 2-3 раза тормоза машины.
После проверки можете начинать движение.
[/lang]
Product Region:Japan
Contents:400ml
Handling Time:1 day