Soft99 Muffler Putty
SCP149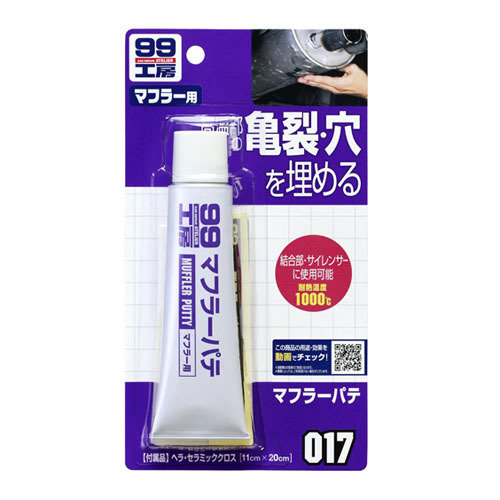 ---
Muffler Putty repairs holes and cracks on the car muffler. It hardens by heat. The included ceramic cloth helps you fix even big holes, and can resist heat up to 1000℃。
Directions to use
1. Remove dirt, oil or rust from the area being repaired.
2. When you repair a crack, wet the part slightly and apply the putty with the included spatula and press.
3. When you repair a hole, cut the included ceramic cloth into piece big enough to cover over the hole and wet the part slightly. Apply the putty thinly on one side of the cloth and put it on the hole, hold, and then apply the putty over it (under 5mm thick). Afterward, let it dry for a day and allow exhaust heat to harden putty. If you boost the repaired part, use Atelier 99 Muffler Tape (sold separately) after it hardens.
Product Region:Japan
Contents:110g
Handling Time:5 days