Welcome to Tsurugi Inc. Online Shop!
We can offer low prices and friendly customer service. All transaction are made via PayPal or Stripe, so we guarantee safe shopping experience with us. Please note, all prices are exclude shipping and handling. We do offer several shipping options, prices are calculated according to the cart weight and each product do have set weight.
For more information please check Shipping & Payment Info also please check Terms & Conditions.
---
Soft99 SMOOTH EGG Shampoo for Repair
SES090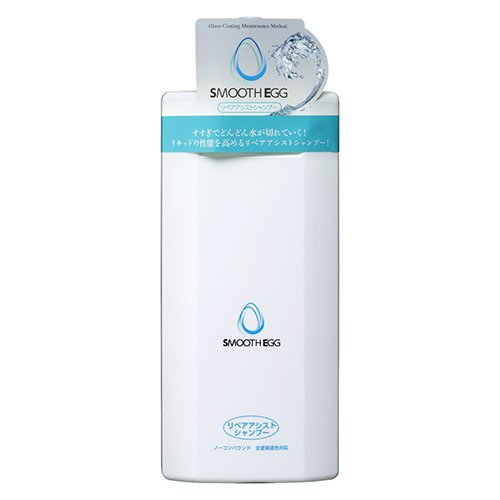 Choose your language: English / Russian
[lang="en"]
For best results, use this car shampoo before using SMOOTH EGG Liquid. You can wash the coated car gently with a rich, foamy lather. This car shampoo causes water to glide off when rinsing, leaving less water drops behind, which allows SMOOTH EGG Liquid to effectively adhere to the body of the vehicle.
Directions to use
1. Remove dirt and sand with water.
2. Turn the cap lever to the ""OPEN"", apply the liquid directly to a sponge and make lather generously and wash the vehicle.
3. Rinse thoroughly. Pour water generously from top downward to cause water to glide off and drain smoothly, leaving less water drops behind.
* Use in conjunction with SMOOTH EGG Liquid (sold separately) after use.
[/lang]
[lang="ru"]
Шампунь для автомобилей, покрытых жидким стеклом
Шампунь мягко удаляет грязь с кузова автомобиля покрытого жидким стеклом, не нарушая покрытие. Восстанавливает его гидрофобные свойства, продлевает срок службы.
Создан для кузова, покрытого жидким стеклом
Восстанавливает гидрофобные свойства
Продлевает срок службы покрытия на основе жидкого стекла
Способ применения
Увлажнить кузов автомобиля, смыть песок и пыль.
Перевести рычаг крышки в положение «OPEN» («Открыто»).
Обильно нанести шампунь на влажную губку тщательно вспенить и промыть поверхность кузова.
Смыть автошампунь с корпуса водой так, чтобы не осталось пены.
[/lang]
Product Region:Japan
Contents:500ml
Handling Time:5 days