Welcome to Tsurugi Inc. Online Shop!
We can offer low prices and friendly customer service. All transaction are made via PayPal or Stripe, so we guarantee safe shopping experience with us. Please note, all prices are exclude shipping and handling. We do offer several shipping options, prices are calculated according to the cart weight and each product do have set weight.
For more information please check Shipping & Payment Info also please check Terms & Conditions.
---
Soft99 New Fabric Seat Cleaner 400
SIS092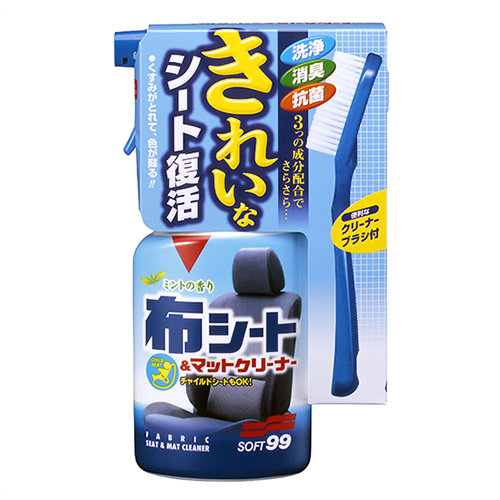 Choose your language: English | Russian
[lang="en"]
Not only does it get rid of bad odors, but also it has a cleaning effect. Its antibacterial effect prevents molds or ticks from occurring, which gives a great result with fresh mint scent. It can easily remove dirt such as tar, stains or sebum from the seats. Plus, the included brush helps you remove persistent dirt in the fabric. Organic solvent is NOT included, so it is very friendly to people and fabrics.
Directions to use
1. Set up the nozzle to <MIST>.
2. Spray it 15-20cm away from the seats or mats and rub with the included brush. The area where you spray will bubble.
3. Wipe off the bubble and dirt with a clean towel before the surface gets dry.
4. Dry completely and then the entire process will be done.
[/lang]
[lang="ru"]
Очиститель ковров и сидений Soft99 New Fabric Seat Cleaner 400 мл
Три активных вещества (дезодорант, антисептик, ароматизатор) обеспечивают тройной эффект: очистка, удаление неприятных запахов и уничтожение бактерий. Подходит для очистки сидений из ткани, искусственной кожи и деталей из пластика. Активные вещества быстро удаляют частицы грязи и возвращают обивке небывалую чистоту. Подходит также для детских сидений.
Отлично очищает от трудноудаляемых загрязнений
Удаляет неприятные запахи и уничтожает бактерии
Подходит для ткани, искусственной кожи и деталей из пластика
Подходит для детских сидений
Абсолютно безопасен для здоровья
Способ применения

Хорошо встряхнув баллон, равномерно распылить по загрязненной поверхности с расстояния около 20 см.
Через 1-2 мин слегка протереть сухой мягкой тканью.
Сильно загрязненные места почистить прилагаемой щеткой, затем удалить оставшуюся пену влажным полотенцем.
Если после первой обработки грязь сошла не полностью, повторить несколько раз.
[/lang]
Product Region:Japan
Contents:400ml / Brush × 1
Handling Time:1 day