Welcome to Tsurugi Inc. Online Shop!
We can offer low prices and friendly customer service. All transaction are made via PayPal or Stripe, so we guarantee safe shopping experience with us. Please note, all prices are exclude shipping and handling. We do offer several shipping options, prices are calculated according to the cart weight and each product do have set weight.
For more information please check Shipping & Payment Info also please check Terms & Conditions.
---
Soft99 PREMIUM MICRO CLOTH
SED111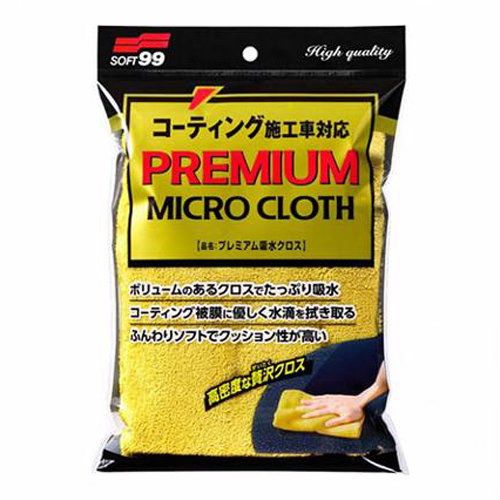 Choose your language: English | Russian
[lang="en"]
High quality absorbent towel which exceed several times higher absorbent, softness and hand touch compare to regular microfiber cloth.
Thick fabric soft shaggy can wipe off tenderly for car surface and coating layer.
Available for wiping dashboard, car navigation screen and interior cleaning as well.
Directions to use
* Wipe off linearly as if cut down the water.
* Frequency wrung absorbed water when wiping off.
[/lang]
[lang="ru"]
Микрофибровая ткань для сушки и полировки Soft99 PREMIUM MICRO CLOTH
Высококачественная премиум-микрофибровая ткань как для сушки (удаления влаги) так и для располировывания, способная впитать в несколько раз больше воды, чем обычная микрофибра.
Плотная, мягкая и пушистая ткань позволяет бережно протереть автомобиль, не нанося вреда ЛКП и защитным покрытиям.
Также применяется для протирки (удаления пыли) приборной панели, экрана и других элементов в салоне автомобиля.
Протирайте поверхность прямолинейными движениями в одном направлении.
[/lang]
---
Product Region:Japan
Contents:1 sheet
Handling Time:1 day