Welcome to Tsurugi Inc. Online Shop!
We can offer low prices and friendly customer service. All transaction are made via PayPal or Stripe, so we guarantee safe shopping experience with us. Please note, all prices are exclude shipping and handling. We do offer several shipping options, prices are calculated according to the cart weight and each product do have set weight.
For more information please check Shipping & Payment Info also please check Terms & Conditions.
---
Soft99 Water Block WAX (3 types)
SEW052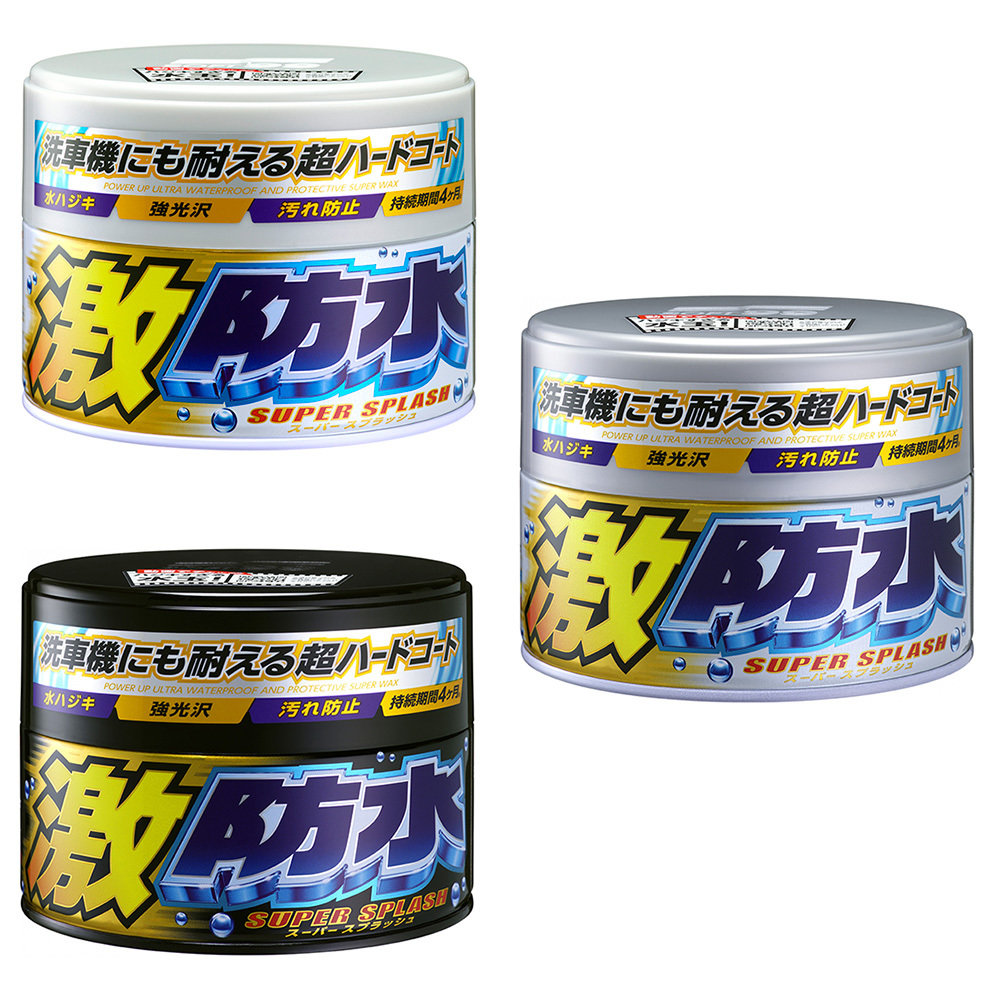 Choose your language: English | Russian
[lang="en"]
This newly developed waterproof resin is highly durable and shuts out acid rain, rain, and water from affecting the car's body exterior. It has amazing water-repellency and its effects last for up to 10 car washes. No compound is included. The resin ring on the bottom prevents the car from being damaged by scratches.
Directions to use
* Make sure that your color is compatible with this product.
* Wash off sand, dust, and dirt, and wipe off any remaining water drops from car surface.
1. Take a moderate amount of the wax and spread it evenly onto car's body using the included sponge.
2. After the surface gets dry (5-10 minutes), wipe off with a soft clean towel.
* We recommend you do this process panel by panel (e.g. hood, door, roof, etc.) especially in the summer.
* Drying time may be longer in winter
[/lang]
[lang="ru"]
Водоотталкивающий полироль для кузова автомобиля Soft99 Water Block WAX
Создает защитный слой с очень сильными водоотталкивающими свойствами и придающий поверхности сильный и стойкий блеск. Маскирует мелкие царапины, создавая идеально ровную поверхность, с которой вода мгновенно скатывается каплями. Легко наносится и растирается.
Продолжительность эффекта: до 4-х месяцев
Способ применения
Используйте полироль, подходящую для автомобиля вашего цвета!
Помойте и протрите автомобиль.
Нанесите средство на корпус тонким слоем с помощью губки.
После высыхания (5-10 мин. при 20°С) тщательно располируйте средство микрофиброй или другой мягкой тканью.
*Рекомендуется обрабатывать кузов по частям (капот, двери и т.д.).
[/lang]
---
Product Region:Japan
Contents:300g
Handling Time:1 day
Type
White (0) Pearl & Metallic (0) Dark & Metallic (0)