Welcome to Tsurugi Inc. Online Shop!
We can offer low prices and friendly customer service. All transaction are made via PayPal or Stripe, so we guarantee safe shopping experience with us. Please note, all prices are exclude shipping and handling. We do offer several shipping options, prices are calculated according to the cart weight and each product do have set weight.
For more information please check Shipping & Payment Info also please check Terms & Conditions.
---
Soft99 Pearl & Metalic Soft Wax
SEW055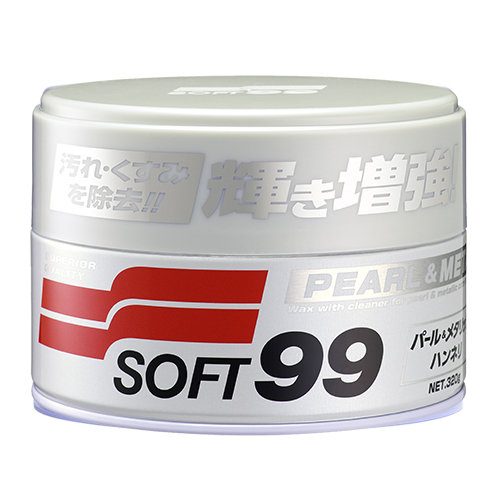 Choose your language: English | Russian
[lang="en"]
Pearl and Metallic Soft offers deep cleaning while creating a long-lasting coat and gloss that truly brings out the luster of mica and metallic color cars.
Directions to use
* Make sure that your color is compatible with this product.
* Wash off sand, dust, and dirt, and wipe off any remaining water drops from car surface.
1. Take a moderate amount of the wax and spread it evenly onto car's body using the included sponge.
2. Rub more firmly to remove heavier stains like dirt, tar, and pitch.
3. After surface gets dry (5-10 minutes), wipe it off with a soft clean towel.
Make sure to finish entire process. If left unfinished, it may cause spots or unevenness.
4. Seal up the can container in order to prevent the fluid from evaporating. Also wash your hands well with soap afterwards.
---
[/lang]
[lang="ru"]
Защитный полироль для кузова автомобиля Soft99 Pearl & Metalic Soft Wax
Создаёт красивый и прочный защитный слой. Содержит воск карнаубы. Имеет мягкий очищающий эффект, защищает окрашенную поверхность, создавая прочную водостойкую оболочку. Рекомендуется использовать 1 раз в месяц.
Способ применения

Хорошо помойте машину.
Возьмите немного средства губкой и равномерно тонким слоем нанесите на поверхность.
Сильно загрязненные места потрите.
Не оставляйте полироль на корпусе на долгое время, т.к. могут появиться пятна и полироль будет трудно стереть.
Через 5-10 мин, сотрите остатки полироля чистым сухим полотенцем.
Если поверхность сильно загрязнена или потрескалась, предварительно обработайте ее очистителем или полиролем с абразивом.
[/lang]
Product Region:Japan
Handling Time:1 day