Welcome to Tsurugi Inc. Online Shop!
We can offer low prices and friendly customer service. All transaction are made via PayPal or Stripe, so we guarantee safe shopping experience with us. Please note, all prices are exclude shipping and handling. We do offer several shipping options, prices are calculated according to the cart weight and each product do have set weight.
For more information please check Shipping & Payment Info also please check Terms & Conditions.
---
Soft99 SMOOTH EGG Stain Removal Cream
SEA074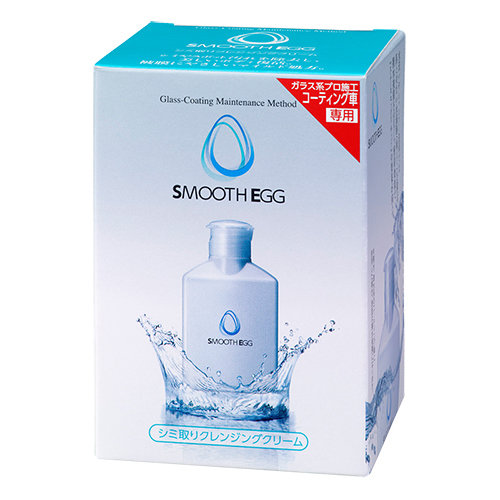 Choose your language: English / Russian
[lang="en"]
SMOOTH EGG Stain Removal Cream removes water stains and water spots which a normal carwash can't and adds water repellence on the body of the vehicle, enhancing the adhesive effect and the effect of SMOOTH EGG Liquid.
The mild formulation is friendly to a coating. Compatible with any color of vehicle.
Directions to use
1. Wash a car and dry with a cloth or towel.
2. Shake the bottle well and apply a small coin sized drop of the liquid to the gray side of the included sponge.
3. Apply to the body of the vehicle, rubbing on stains and dirt. For areas that are more challenging to remove, add slightly more liquid to the area and scrub firmly to remove dirt. * Work on areas of about 3 sq.ft. (50cm x 50cm) at a once.
4. Allow it to dry until the surface whitens. Wash the car with a clean sponge. * Use in conjunction with SMOOTH EGG Liquid (sold separately) after use.
[/lang]
[lang="ru"]
Очиститель для автомобилей, покрытых жидким стеклом
Предназначен для удаления сильных загрязнений на автомобилях, покрытых жидким стеклом.
Абсолютно безопасен для покрытия на основе жидкого стекла.
Отлично очищает от загрязнений и пятен от воды
Защищает покрытие на основе жидкого стекла
Способ применения
Очистите корпус автомобиля от пыли и песка, протрите насухо.
Встряхните бутылку и нанесите каплю средства размером с монету в один рубль на серую поверхность прилагающейся губки.
Вотрите в поверхность кузова.
Не наносите средство за один раз на обширную часть поверхности, а ограничьтесь участком со сторонами около 50 см.
Втирать прямолинейными движениями вертикально и горизонтально.
Дайте поверхности высохнуть, пока она не побелеет.
Затем тщательно промойте водой, используя чистую губку для мойки машины.
[/lang]
Product Region:Japan
Contents:80ml
Handling Time:5 days