Welcome to Tsurugi Inc. Online Shop!
We can offer low prices and friendly customer service. All transaction are made via PayPal or Stripe, so we guarantee safe shopping experience with us. Please note, all prices are exclude shipping and handling. We do offer several shipping options, prices are calculated according to the cart weight and each product do have set weight.
For more information please check Shipping & Payment Info also please check Terms & Conditions.
---
Soft99 Scratch Clear Wax Mirror Finish (3 types)
SEW044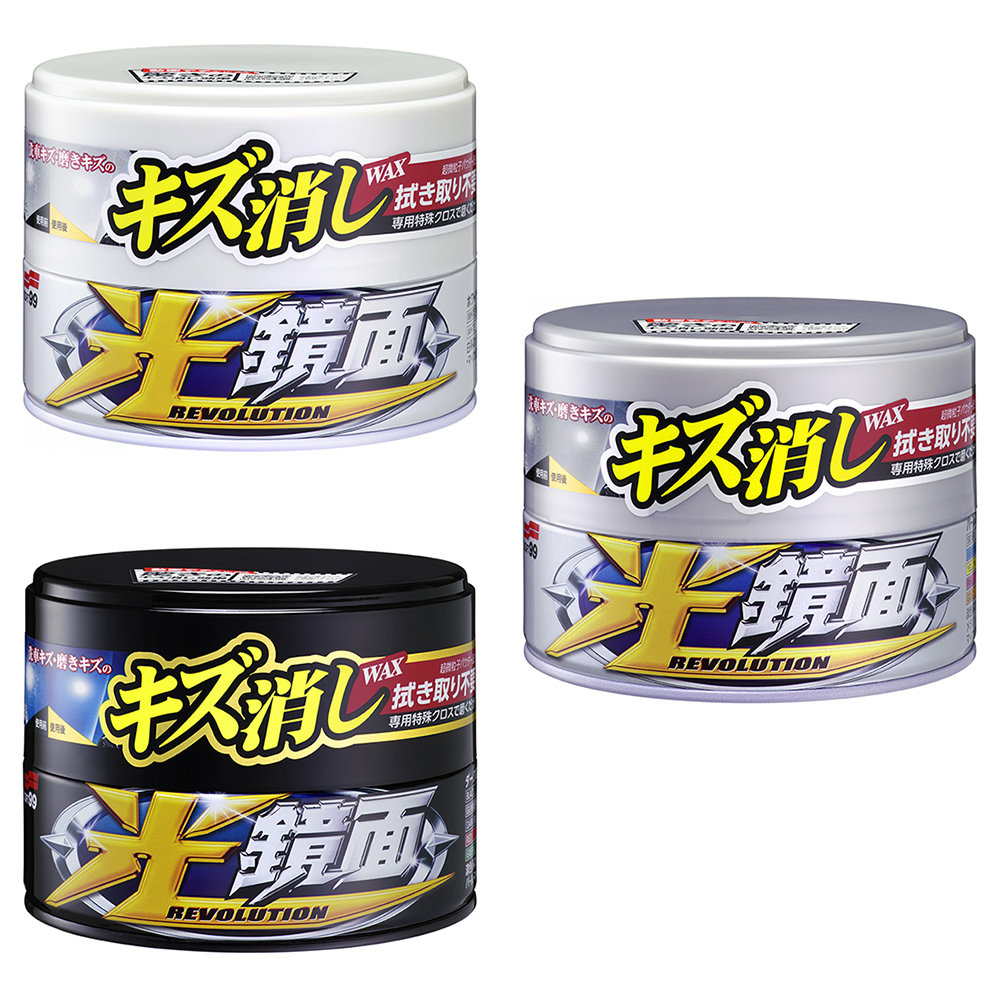 Choose your language: English | Russian
[lang="en"]
By simply applying New Scratch Clear Wax-Mirror Finish with the included cloth, the entire process will be done. Drying and wiping off are not necessary. With this product you can remove scratches and apply wax on even the finest parts of a car using the cloth. A newly developed super micro-particle powder will remove scratches from the surface in a flash while also creating a wax coating. Furthermore, this wax effect achieves a mirror-like finish that gives the car a brand-new shine.
Directions to use
* Make sure car is compatible with this product.
* Wash off sand, dust, and dirt and wipe any remaining water drops.
1. Take the wax and the included cloth to apply it evenly to car surface.
2. All you need to do is polish firmly on the surface because there is no need to wipe off.
* Make sure to finish the entire process. If left unfinished, it may cause spots or unevenness.
[/lang]
[lang="ru"]
Полироль для маскировки царапин на кузове автомобиля Soft99 Scratch Clear Wax Mirror Finish
Полностью маскирует мелкие повреждения в слое краски. Входящие в состав полироля микрочастицы делают незаметными царапины и мелкие повреждения, обеспечивая более сильный и стойкий блеск. Достаточно просто нанести, не требует располировки.
Содержит мелкий абразив
Маскирует мелкие повреждения
Обеспечивает стойкий блеск
Легко наносится, не требует располировки
Продолжительность эффекта – до 3 месяцев
Способ применения
Помойте автомобиль и вытрите насухо.
Возьмите нужное количество полироля салфеткой и равномерно нанесите на корпус.
Стирать полироль не требуется, поэтому просто разотрите его по поверхности.
Не оставляйте средство на корпусе толстым слоем на долгое время, т.к. это может вызвать образование пятен.
[/lang]
---
Product Region:Japan
Contents:200g
Handling Time:1 day
Type
White (0) Pearl & Metallic (0) Dark & Black (0)