Welcome to Tsurugi Inc. Online Shop!
We can offer low prices and friendly customer service. All transaction are made via PayPal or Stripe, so we guarantee safe shopping experience with us. Please note, all prices are exclude shipping and handling. We do offer several shipping options, prices are calculated according to the cart weight and each product do have set weight.
For more information please check Shipping & Payment Info also please check Terms & Conditions.
---
Soft99 Glaco Q
SGA011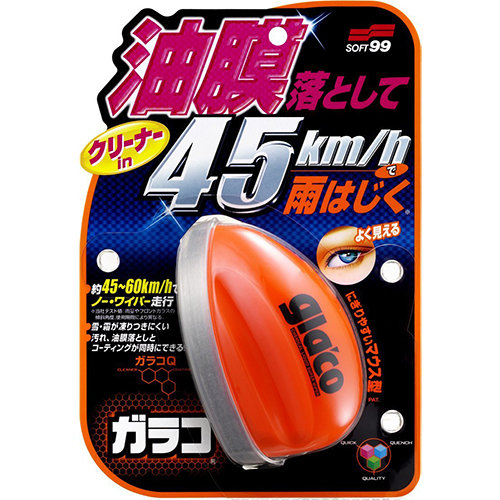 Choose your language: English | Russian
[lang="en"]
It brings out long lasting water repellency without surface preparation, because it coats the glass while removing oil film. It is easy to grip and the big head helps you apply smoothly. Plus, reapplying is NOT necessary, which makes work time one third of conventional products.
Directions to use
* Remove dust or dirt from the windshield with water in advance.
1. Take the cap off and apply it on a dry windshield. Press the side of the bottle to let the fluid out and rub it firmly onto the windshield without splashing the fluid.
* Do not apply it on wet windshield otherwise it may cause damage to the surface.
2. After drying for 5-10 minutes, wipe it off with a slightly damp towel which is wrung out.
[/lang]
[lang="ru"]
Водоотталкивающее покрытие и очиститель для стёкол Soft99 Glaco Q
Glaco Q содержит частицы, которые в момент нанесения средства очищают поверхность. Очень прост в применении, так как не требует предварительной очистки и подготовки стекла перед нанесением. Можно использовать не только на лобовое стекло, но и на заднее, боковые стёкла и боковое зеркало.
Придаёт сильное водоотталкивающее свойство
Действует при скорости более 45 км/ч
Наносится без предворительной чистки поверхности стекла
Препятствует загрязнению
Увеличенный аппликатор позволяет быстро обработать поверхность
Используется на лобовом, заднем, боковых стёклах и боковых зеркалах
Продолжительность эффекта – до 2 месяцев
Способ применения
Очистите стекло.
Встряхните флакон.
Снимите колпачок и наносите средство на стекло не оставляя необработанных участков, слегка сжимая флакон.
Дайте средству высохнуть 5-10 мин (кроме зимнего времени).
Протрите намоченным и тщательно выжатым полотенцем.
Закройте наконечник крышкой, повернув колпачок один раз по часовой стрелке.
[/lang]
Product Region:Japan
Contents:70ml
Handling Time:1 day