Welcome to Tsurugi Inc. Online Shop!
We can offer low prices and friendly customer service. All transaction are made via PayPal or Stripe, so we guarantee safe shopping experience with us. Please note, all prices are exclude shipping and handling. We do offer several shipping options, prices are calculated according to the cart weight and each product do have set weight.
For more information please check Shipping & Payment Info also please check Terms & Conditions.
---
Soft99 Black Magic Wheel Coating
STT028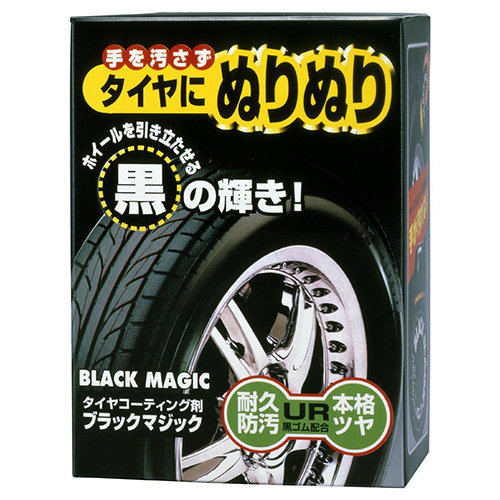 ---
Application to tires achieves a rich, black gloss just like a brand-new car. Furthermore, UR black rubber coating, which blends Carbon Black, has a sufficient durability and maintains a gloss and anti-fouling effect.
Directions to use
1. Wash off dirt in advance, and dry the tire surface.
2. Shake the bottle well with the cap on, remove the cap and attach the sponge side to the tire sidewall. Spread evenly letting the fluid out little by little.
* If the black liquid gets on wheels or car body, please wipe it off immediately.
* If you apply it thickly, it will be hard to dry.
3. Dry for approximately 5-10 minutes (for 20 minute in the winter).
* Be sure not to wet the tire until it is finished drying.
4. Wipe off the liquid attached to the sponge side and tighten the cap. Store standing up.
Product Region:Japan
Contents:150ml
Handling Time:1 day