Welcome to Tsurugi Inc. Online Shop!
We can offer low prices and friendly customer service. All transaction are made via PayPal or Stripe, so we guarantee safe shopping experience with us. Please note, all prices are exclude shipping and handling. We do offer several shipping options, prices are calculated according to the cart weight and each product do have set weight.
For more information please check Shipping & Payment Info also please check Terms & Conditions.
---
Soft99 Coating & Cleaning Liquid Wax (2 types)
SEC079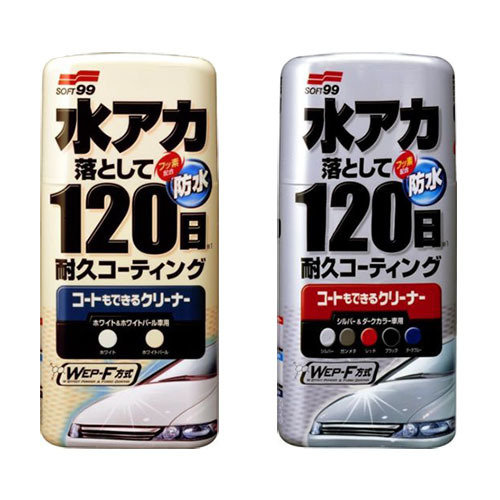 Choose your language: English | Russian
[lang="en"]
Preventing the readhesion of dirt, 2 kinds of powdered cleansers get rid of stubborn dirt on the surface and even in fine scratches. Furthermore, blended fluorine brings out strong water repellency lasting up to 120 days, so it does not require you to wash the car so often.
Directions to use
* Make sure your car's color is compatible with this product.
1. Remove dirt with water and wipe off water drops remaining on the surface.
2. Put the liquid on the sponge and spread it on the surface evenly.
3. Dry for a while (in the summer for 5 minutes, in the winter for 10 minutes) and wipe it off with a dry clean towel.
[/lang]
[lang="ru"]
Очищающий и восстанавливающий полироль Soft99 Coating & Cleaning Liquid Wax
Легкость и простота в применении данного покрытия вас приятно удивит. Очистит, предаст блеск и защитит кузов автомобиля.
Характеристики:
Полироль разработан по специальной формуле, состоящей из двух компонентов. Первый – для очистки кузова от въевшейся грязи. Входящие в состав средства компоненты легко справляются с загрязнениями различного происхождения. Второй компонент – фтор, создает на кузове защитное покрытие, которое обладает грязе- и водоотталкивающим эффектом, сохраняя защитные функции до 120 дней. Полироль жидкого типа легко наносится на кузов автомобиля.
Способ применения:
Перед использованием встряхните флакон.
Прежде всего, очистите кузов от песка и пыли.
Налейте на губку небольшое количество полироля, равномерно распределите по поверхности.
Трудно выводимые следы потрите, прилагая небольшую силу. Оставьте полироль на 5 мин в летнее время и 10 мин в зимнее.
Затем вытрите кузов чистой сухой салфеткой из фибры.
Меры предосторожности:
Используйте по назначению.
Не оставляйте на кузове надолго, не используйте в жару, не наносите на разогретый, вторично окрашенный кузов, т.к. это может вызвать образование пятен и повреждение поверхности.
Рекомендуется работать в перчатках.
Берегите от детей.
[/lang]
Product Region:Japan
Contents:500ml
Handling Time:1 day
Type
White & White Pearl (0) Silver & Dark (0)