Welcome to Tsurugi Inc. Online Shop!
We can offer low prices and friendly customer service. All transaction are made via PayPal or Stripe, so we guarantee safe shopping experience with us. Please note, all prices are exclude shipping and handling. We do offer several shipping options, prices are calculated according to the cart weight and each product do have set weight.
For more information please check Shipping & Payment Info also please check Terms & Conditions.
---
Soft99 Digloss Gira Edge
STT024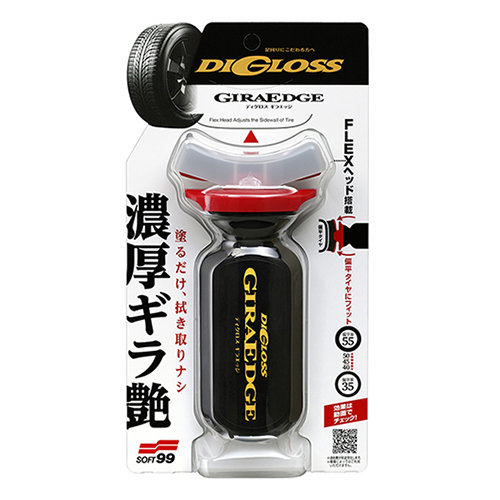 ---
This tire glosser creates smooth and thick glossy layer. This flex applicator can adjust for tire shape; it is applicable for gap between tire and wheel.
Odor reduction solvent free type can apply 3-4 vehicles.
Directions to use
* Shake the bottle well with cap in advance.
1. Wash off sand or dust in advance and wipe off water components.
* If tire gets wet, it might cause unevenness and drying time is much longer.
2. Remove cap and attach the sponge side to the tire sidewall. Spread evenly letting the fluid out.
3. Dry for approximately 5-10 minutes. No need to wipe off.
* Remove oily dirt or old tire wax with car shampoo to prevent unevenness.
* Close the cap after use.
---
Product Region:Japan
Contents:70mL
Handling Time:1 day